This post is the second in our series on the Fruit of the Spirit. We are exploring becoming more like Christ in our character and actions.
Have you ever experienced a random act of kindness from a stranger?
A college student and ten friends took a break from studying for exams. They went to a restaurant downtown for dinner. As they walked to their seats, a gentleman asked if they were college students. They answered yes and didn't pay any more attention to him.
Can you imagine their shock when they got ready to pay their bill? As each student pulled out their credit card, the waiter told them the gentleman already paid for their meals, drinks, and tip. When they looked around to thank him, the kind man was gone.
What is Kindness?
Kindness can be described as thoughtful, caring, considerate, and generous. Kindness is helping others without expecting praise or reward. It is love in action, expressed in personal and practical ways.
Kindness is a fruit of the Spirit.
But the fruit of the Spirit is love, joy, peace, forbearance, kindness, goodness, faithfulness, gentleness, and self-control. Against such things, there is no law. Galatians 5:22-23
3 Reasons to Practice Kindness
 By nature, we are self-centered and so we struggle with kindness. But God shows us a model of kindness through Jesus Christ. His death, burial, and resurrection demonstrate God's kindness toward us. While we were still sinners, he chose to die and redeem us from our sins. That is the greatest act of kindness. But God demonstrates his own love for us in this: While we were still sinners, Christ died for us (Romans 5:8). Because God saved us through his kindness, we are to be kind and compassionate to one another (Ephesians 4:32).
Opportunity to shine the light for others to see Jesus through us.
People don't care how much you and I  know until we show them how much we care. Whether it is at home, on the job, or in a conflict situation, we can be kind.  In our conversations, we will always have opportunities to practice kindness.  It could be a simple gesture like a smile or a compliment like that color looks beautiful on you, or you did a great job. Let's allow others to see  Jesus in us through our kindness.  
Serve others with compassion.
A man was going from Jerusalem to Jericho. Armed robbers attacked him. A priest and a Levite passed by, but they didn't stop. A Samaritan saw the man and took pity on him. He took care of the man's wounds, put him on his donkey, took him to an inn, and took care of him. He even paid the innkeeper to look after the man when he left (Luke 10:30-35).  As we have the opportunity, let us serve others with kindness and compassion.   When Paul and others were shipwrecked, the islanders showed them unusual kindness (Acts 28:2). We reap what we sow. If we are kind to others, we, too, will receive kindness in our time of need.
Kindness is the essence of God, and it is the way of life of Jesus. Everywhere he went, Jesus was doing good. He healed the lame, blind, lepers, and all who were sick. To be kind like Jesus, you and I need His Spirit living in and through us. We need Him to help us grow in kindness.
Simple Practical Ways to Grow in Kindness Daily.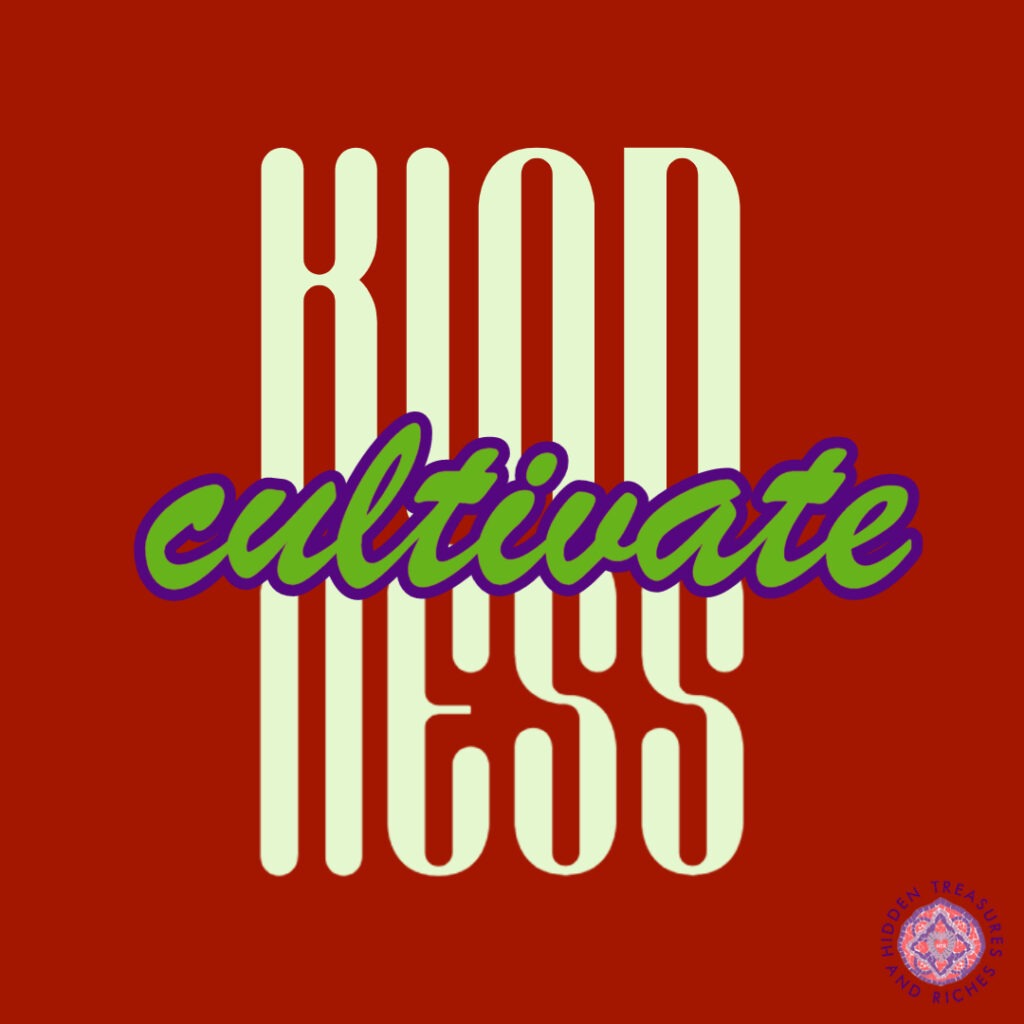 Do you enjoy doing something for others? It is amazing what a little bit of kindness can do to brighten our day. Cultivating kindness does not have to be complicated. Pray and ask God for opportunities to show kindness to others.
Take a moment and do something kind for yourself and others.
Write an encouraging note to a friend.
Let someone cut in front of you in the line.
Say hello to a stranger during your next nature walk.
Smile.
Share a treat with a friend.
Offer to give a friend a ride.
Call or text a relative you haven't spoken to in a while.
Pray for your waiter while dining out.
Donate canned goods to the food bank.
Pray for the cashier at the checkout.
Share with a friend three reasons why you think she is wonderful.
Volunteer at a charity.
Pay for someone's meal at a restaurant.
Thank a mentor who made a difference in your life.
Buy a little gift for someone just because…
Thank your family for what they do.
I have received kindness from many people. While I don't have it down by any means, daily, I ask the Lord to help me grow in kindness.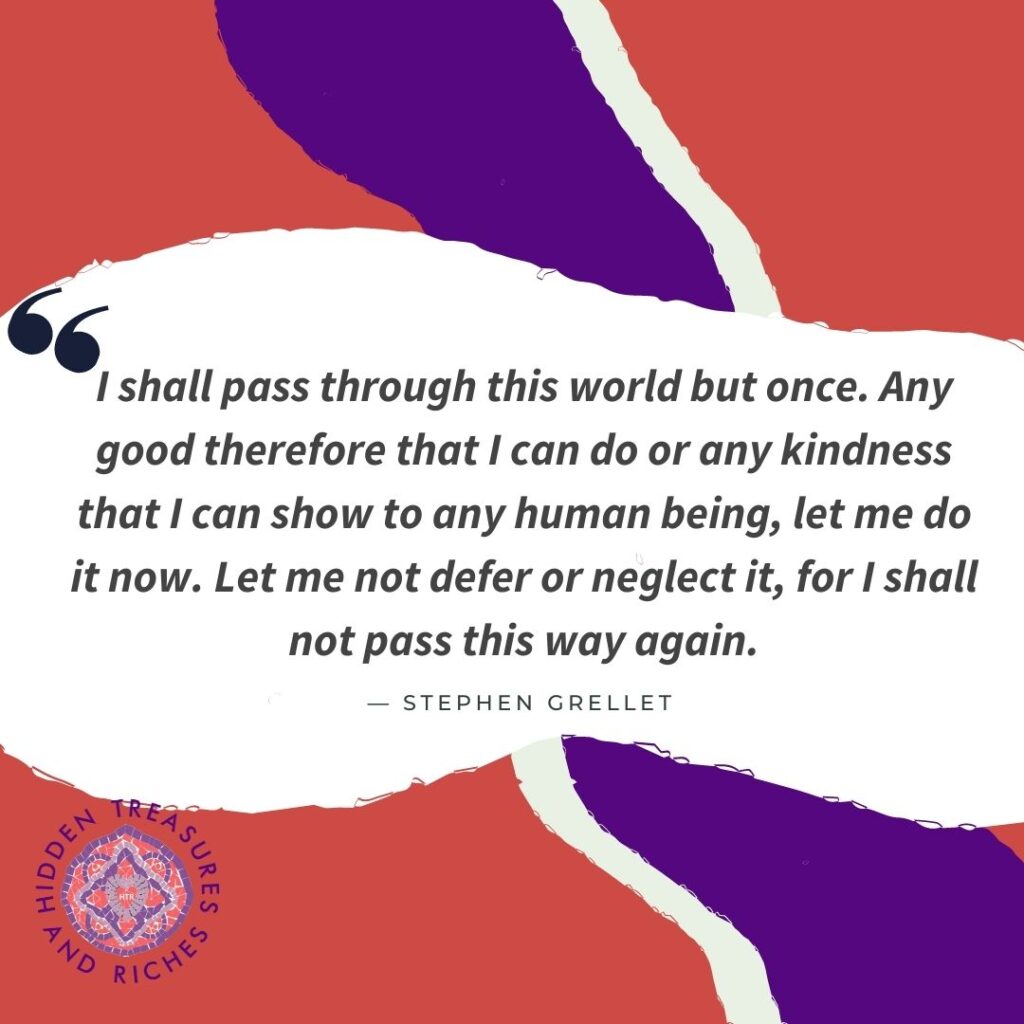 "I shall pass through this world but once. Any good therefore that I can do or any kindness that I can show to any human being, let me do it now. Let me not defer or neglect it, for I shall not pass this way again." — Stephen Grellet
What is the kindest thing a stranger ever did for you? How can you pay it forward?