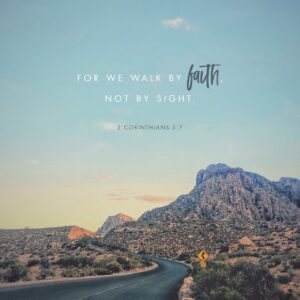 This post is by a friend who gave me permission to share her experience of wrestling with faith and gaining perspective. I hope her story will encourage you.
I am here, feeling defeated, and praying for Faith.
I am angry.
Faith is hard.
It is hard to stay anchored in the promise of the Lord and surrender to that promise and to the reality that His Mighty Powers and Endless Love are guiding me, even if the steps feel uncertain, painful, and at times impossible.
Faith is a promise.
It is waiting for what you cannot see but with that certainty that whatever is happening at the moment is in the hands of the Lord. Promises are hard to grasp. The human spirit is inpatient and vulnerable to the fragility of the senses. Faith is walking not by sight or touch but by trust.
For we walk by faith, not by sight (2 Corinthians 5:7).
I am sitting here, rocking back and forth, completing my work, sending emails, and dealing with my son. I called my son's providers this morning and made appointments to get him assessed. He is refusing to go to school. He is in great distress and his anxiety is visible.
Then I get a very discouraging email from his father after spending half of my morning trying to coordinate assessments, health care, and visits to providers. My son's physical and mental health problems are all my fault, he concludes.
And I felt defeated.
Then I started thinking and praying for Faith in the Lord and telling myself that all I have done this morning has been guided by Him, and not to be discouraged. Then this promise of the Lord comes to mind:
"I will answer them before they even call to me. While they are still talking about their needs, I will go ahead and answer their prayers!" (Isaiah 65:24).
This has been my prayer every morning, every day, every hour, at every moment. God, increase my trust in you, increase my faith that I may lean, not on my own understanding, but in your Truth and Love.
Trust in the LORD with all your heart and lean not on your own understanding. – Proverbs 3:5-6
Later in the day, my friend shared that she saw glimpses of hope. She received a call to bring her son to see the doctor the next day. She had been told earlier, there were no appointments till in the spring. My friend rejoiced for the answers to prayer and the small miracles.
My friend would like you too to experience hope.
What challenges are you facing? How could you apply God's truth to your situation?
Share in the comments below.