It looked like it was going to be a long night. The air was crisp and cold. Peter would have given anything to be indoors where it was warm.
But how could he do that?
His friend and teacher had just been arrested. The best he could do was follow from a distance.
The sight of the fire in the courtyard was a welcome relief.  Peter muttered, "I will blend in with the folks around the fire. No one would notice me."
Around the fire, everyone seemed to be lost in their own thoughts. Perhaps, they were wondering about the events that had just happened. The Jewish leaders arrested the man named Jesus, who performed miracles and taught in the Temple. No one was sure of his crime or what he had done.
Lost in thoughts, Peter inched a little closer to the fire. A young servant girl identified him, "You were one of those with Jesus of Nazareth." As he walked away from the fire, Peter responded, I don't know what you are talking about. Just about that time, a rooster crowed.
The girl was convinced that Peter was one of Jesus' followers, so she didn't keep quiet but told others about him. But Peter denied knowing Jesus.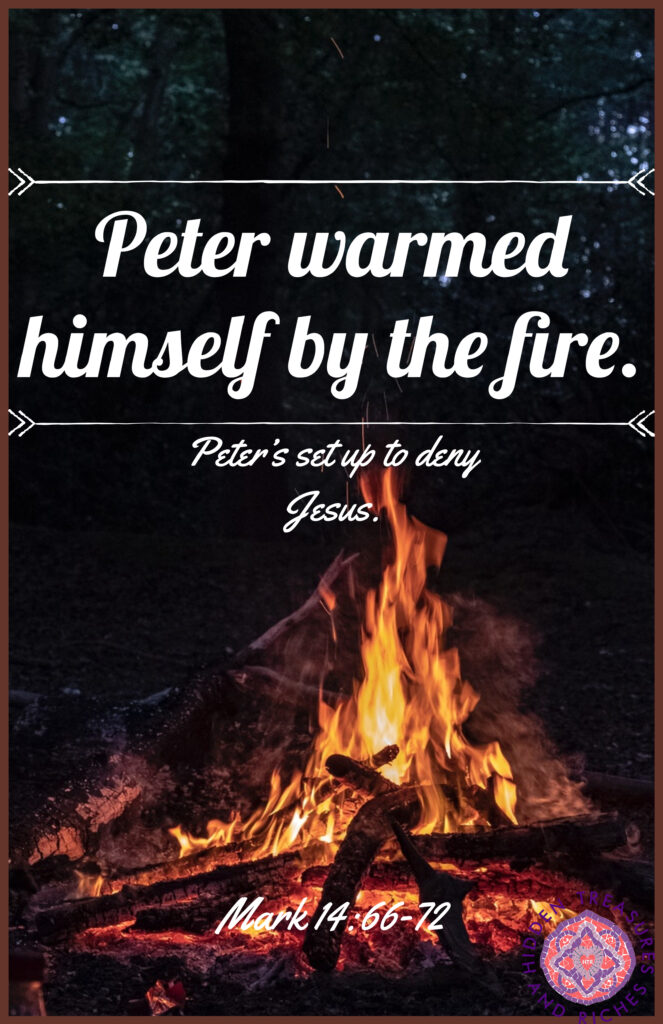 Peter probably thought, at least I am here. While the other disciples fled, he was just some distance away from Jesus. Then another person in the crowd identified him, "You must be one of them because you are a Galilean." This time Peter swore and was firm in his denial. "A curse on me if I'm lying. I don't know this man you are talking about!" Right about the same time, a rooster crowed in the distance.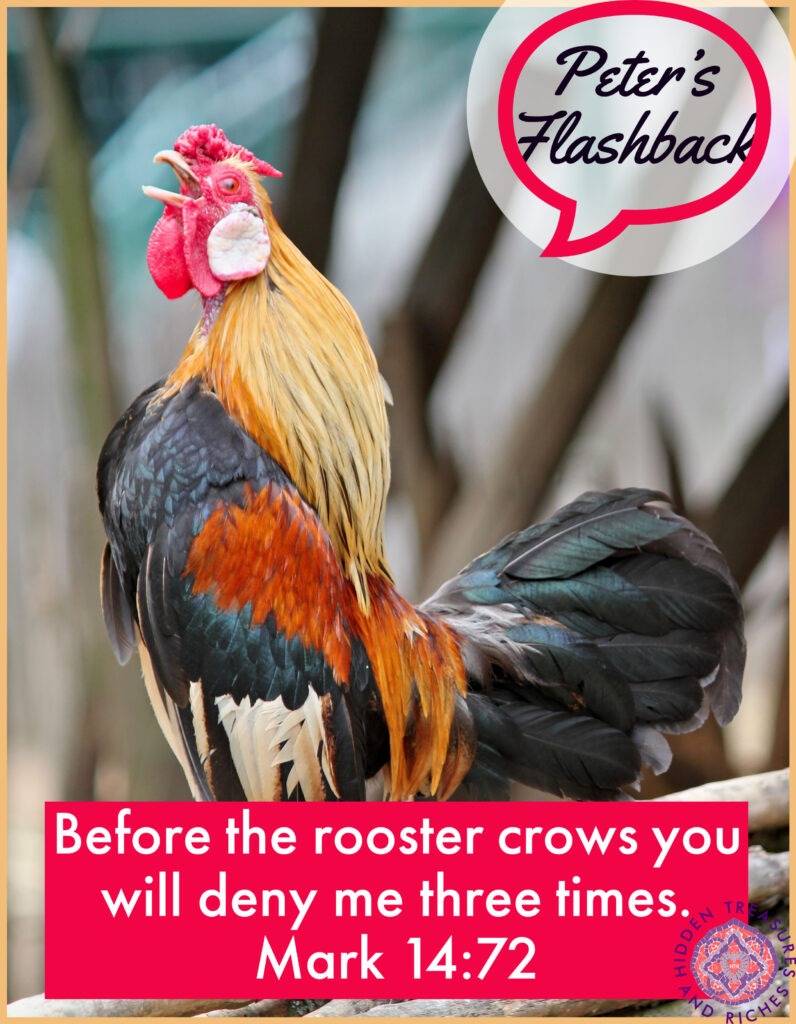 Suddenly, Peter was jolted back to reality as Jesus' words flashed in his mind. Before the rooster crows twice, you will deny three times that you even know me.
Can you relate?
Were you around the fire in the courtyard? Was I there too?
Can you and I see ourselves in Peter's story?
He wasn't the only follower there. You and I were there.
We stood around the fire and denied Jesus too.
How, you ask?
We deny Jesus every day with our attitudes, words, actions.
Yes, you and me!
Like Peter, we are confident in our loyalty to Jesus, and we think that will never happen to us.
A Rescue Mission of Amazing Love Turns Failure into Hope.
But thank God this story doesn't end with our denial and failure.
Jesus has a different attitude. He was on a rescue mission to snatch Peter, you, and me out of the claws of sin, chaos, failure, and death.
Though he was God, he did not think of equality with God as something to cling to. Instead, he gave up his divine privileges; he took the humble position of a slave and was born as a human being. When he appeared in human form, he humbled himself in obedience to God and died a criminal's death on a cross (Philippians 2:5-8)
Our failures and missteps can't stop Jesus from his rescue mission. He gave up his position, power, and authority in humility for our redemption. Even though he committed no offense, He died a criminal's death on the Cross (Mark 15:21-41).
No matter the chaos, shame, and guilt in our lives, Jesus paid for it in full at the Cross. He gave his life so that you and I can enjoy peace, the forgiveness of sins, and the hope of eternal life. Isaiah paints a great picture of Jesus' sacrifice for us.
But he was pierced for our transgressions, he was crushed for our iniquities; the punishment that brought us peace was on him, and by his wounds, we are healed. We all, like sheep, have gone astray, each of us has turned to our own way; and the Lord has laid on him the iniquity of us all (Isaiah 53:5-6).
Thankfully, our transgressions are not a barrier to what Jesus can do in your life and mine.  Peter was restored, and his failure became a stepping-stone for sharing the gospel with others. He preached, and over 3000 accepted Jesus and received the gift of salvation.
As we reflect on Jesus' sacrificial love for us this Easter, let's not stay stuck in our failures and inadequacies. Let's receive his FREE gift of love with open hearts. May our response be one of immense Gratitude, Praise, and Worship!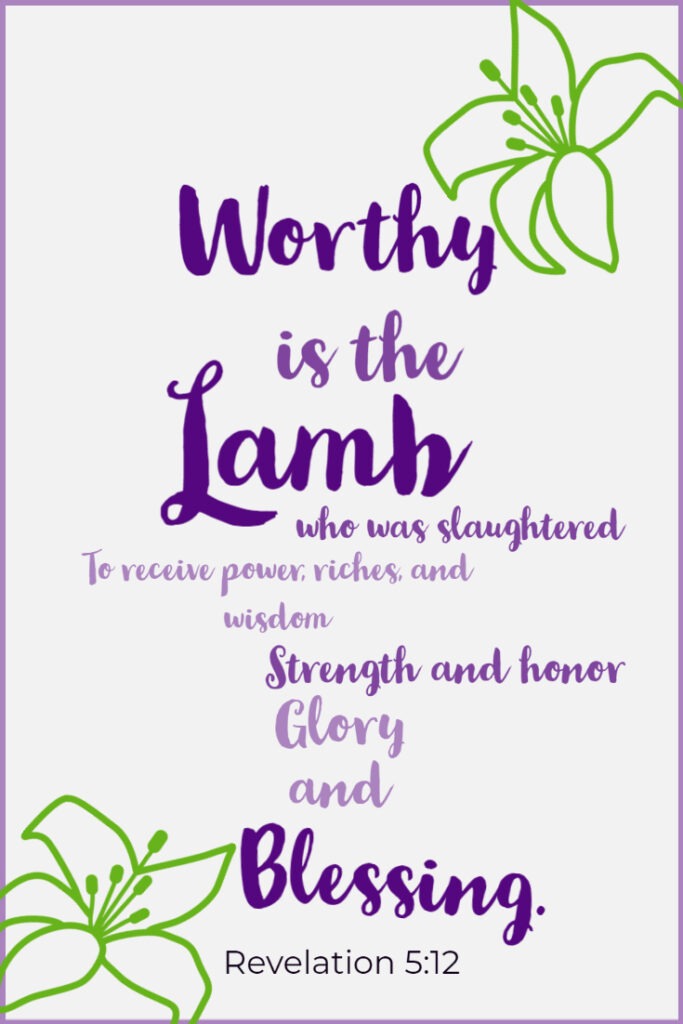 Rejoice. Jesus has triumphed over death. Alleluia!
You are looking for Jesus of Nazareth, who was crucified. He isn't here. He is risen from the dead! (Mark 16:6).
Jesus is our hope. He is worthy of our praise.
Worthy is the Lamb who was slaughtered—to receive power and riches and wisdom and strength and honor and glory and blessing (Revelation 5:12).
Happy Easter, Friend!
In what ways will you show your gratitude to Jesus this Easter?