Day 8: Read Luke Chapter 8
No one lights a lamp and hides it in a chair or puts it under a bed. Instead, he puts it so that those who come in can see the light. Luke 8:16
Have you ever had one of those days that you ask yourself, where is the sun today?
This particular morning, my pace was slower than usual because I had a lot on my mind. 
As I walked along, I noticed a black bench on the curb up ahead. A red SUV drove past, and then the driver pulled over. Our eyes met as she got out of the car. She walked over to the bench and said, "I've been looking for a park bench, and this looks perfect." Enjoy it, I mumbled and continued my walk up the hill.
Suddenly, I heard in my spirit ask her if she needed help to carry the bench. I turned back and asked, and she said yes. 
The bench felt like it weighed a ton. I thought there was no way she could have carried it alone. Silently I thanked the Lord for prompting me to stop and help her. 
As believers in Jesus, we carry his light with us everywhere. As such, we are to come alongside others and help those suffering or in need. Jesus calls us to practice his principles of the kingdom… to live in such a way that our lives point others to him.
It's easy to focus on our everyday life and needs. But the Christmas season provides an opportunity to sow seeds of love through acts of kindness. 
Although this time of year is busy with a lot of fun and activities, for some people, it's a reminder of the loss and grief of loved ones who are no longer here. Some are suffering, homeless, alone, or have lost their way. The needs are many.
So, how can you and I shine the light and show the love of Jesus to our neighbors?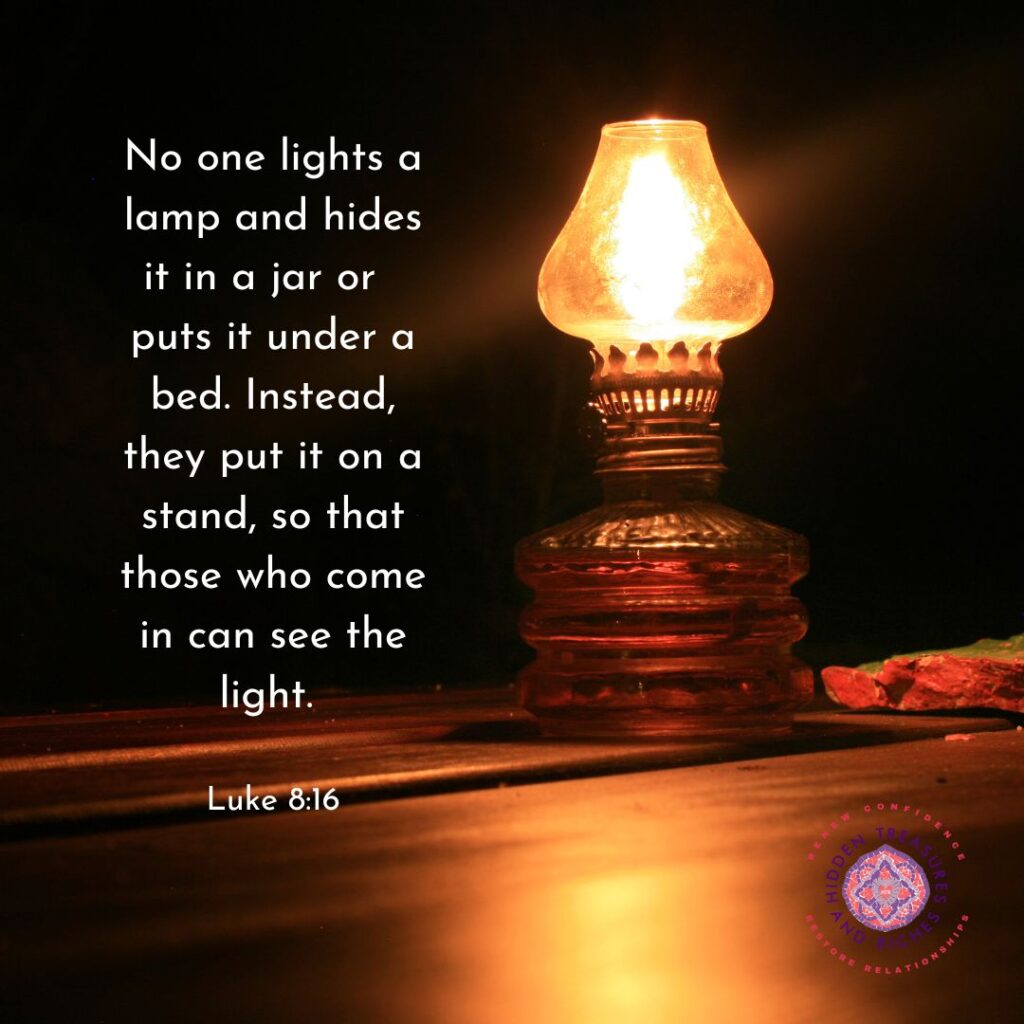 Every day we can ask God to make us aware of opportunities to shine our lights and offer to help those in need. 
Here are some ideas. Perhaps you could offer to take a meal to a sick neighbor, check in with a grieving friend, or serve the homeless at the local food shelter. Maybe you could volunteer to visit the elderly in a nursing home. 
You could help feed the hungry by providing groceries, sending Christmas cards to the homebound, or donating clothes and other items you no longer need. 
When I was growing up, my siblings and I saved any money we received as gifts throughout the year. Then at Christmas time, my dad would collect all the money and add some to it. He would drive us to the orphanage to donate our money to help the kids there.  
This holiday season, I'll check in on a few friends who lost loved ones this year and ask how I can support them in a practical way.
Friend, serving others, and letting your light shine is a privilege.
Shine your light by loving God, loving others, and loving yourself. 
What's one thing you can do to help others let your light shine today in your corner of the world?
Prayer
Father, thank you for your steadfast love. This Christmas season, please provide opportunities for me to be a light and help me to be more aware of the needs of those in my community. Thank you for providing all that we need. I magnify and bless you. In Jesus' name. Amen.  
Day 8: This post is part of the Come Away with Jesus Christmas Challenge.
Have you always been running? Running to please everyone and hoping for a change without the discomfort of letting go? Let me show you how to soar and start living your dreams. Let's talk. Book your FREE Call today.
You may also be interested in The Secret to Loving Well