Have you ever opened a pack of Oreos with the intention of eating just two pieces? But found yourself eating the entire pack in one sitting?
What is self-control?
According to the dictionary, self-control is restrained exercise over one's impulses, desires, emotions, or temperance.
Self-control is the ability to resist temptation and say No to things that are not good for us. For example, you may choose not to eat an entire bag of chips in one sitting or binge-watching Netflix. You may decide not to mindlessly spend hours scrolling on social media.
What does the Bible say about Self-control?
A person without self-control is like a city broken into and left without walls. Proverbs 25:28
Galatians 5:19-21 provides additional details about what it looks like to not have self-control.
Now the works of the flesh are evident: sexual immorality, impurity, sensuality, idolatry, sorcery, enmity, strife, jealousy, fits of anger, rivalries, dissensions, divisions, envy, drunkenness, orgies, and things like these. I warn you, as I warned you before, that those who do such things will not inherit the kingdom of God. Galatians 5:19-21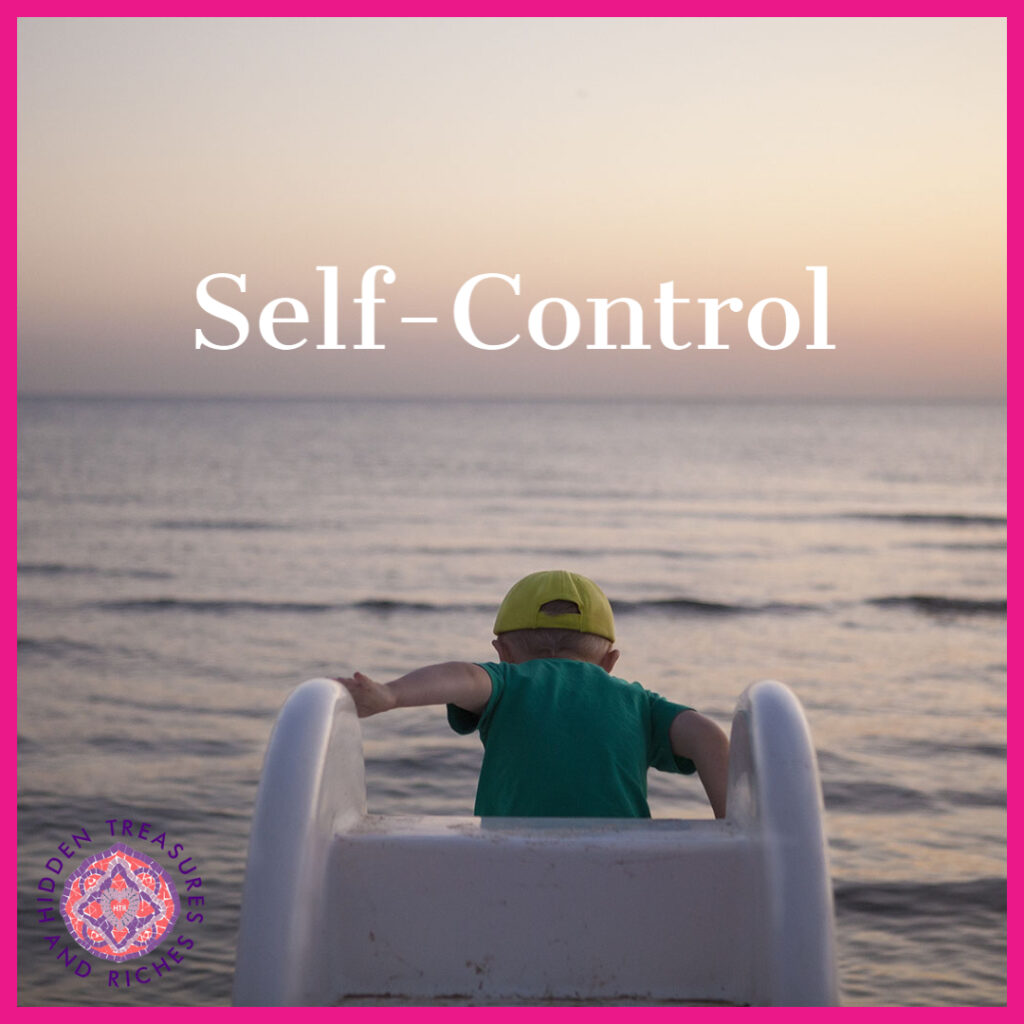 Self-control is a key fruit of the Spirit.
It is the tree trunk from which all the other fruit arise. As we exercise self-discipline and crucify our fleshly desires, we grow in Christ-like characteristics of love, joy, peace, patience, kindness, goodness, faithfulness, gentleness, and self-control. Galatians 5:22-23
And those who belong to Christ Jesus have crucified the flesh with its passions and desires. Galatians 5:24
How to develop Self-control
Self-control is a fruit of the Holy Spirit. It is a discipline that God grows in us when we choose to die to our flesh and live in him. We don't gain self-control by a sheer act of our will but instead, it is a co-partnership with God.
We turn to Christ in faith and ask for his help. Then we walk in step in the direction he leads us. It is about submitting to the power of Christ and giving him full access to all areas of our lives.
Practicing self-control is a choice we must make proactively. This means we are proactive in dealing with temptations and not allowing them to overcome us.
Think about the car break. Can you imagine driving a car without a break or if the break fails while you are driving? The car would crash!
Without self-control, our lives are headed for a head-on collision and a deadly crash.  If we let our desires, impulses, and emotions drive us, our lives will spin out of control.
Through Christ, you and I  have the power to live Self-controlled lives.
For the grace of God has appeared, bringing salvation for all people, training us to renounce ungodliness and worldly passions, and to live self-controlled, upright, and godly lives in the present age. Titus 2:11-12
If we allow the Holy Spirit to determine our standards and values, He will help us to practice self-discipline.
For it is God who works in you, both to will and to work for his good pleasure. Philippians 2:13
Benefits of Self-control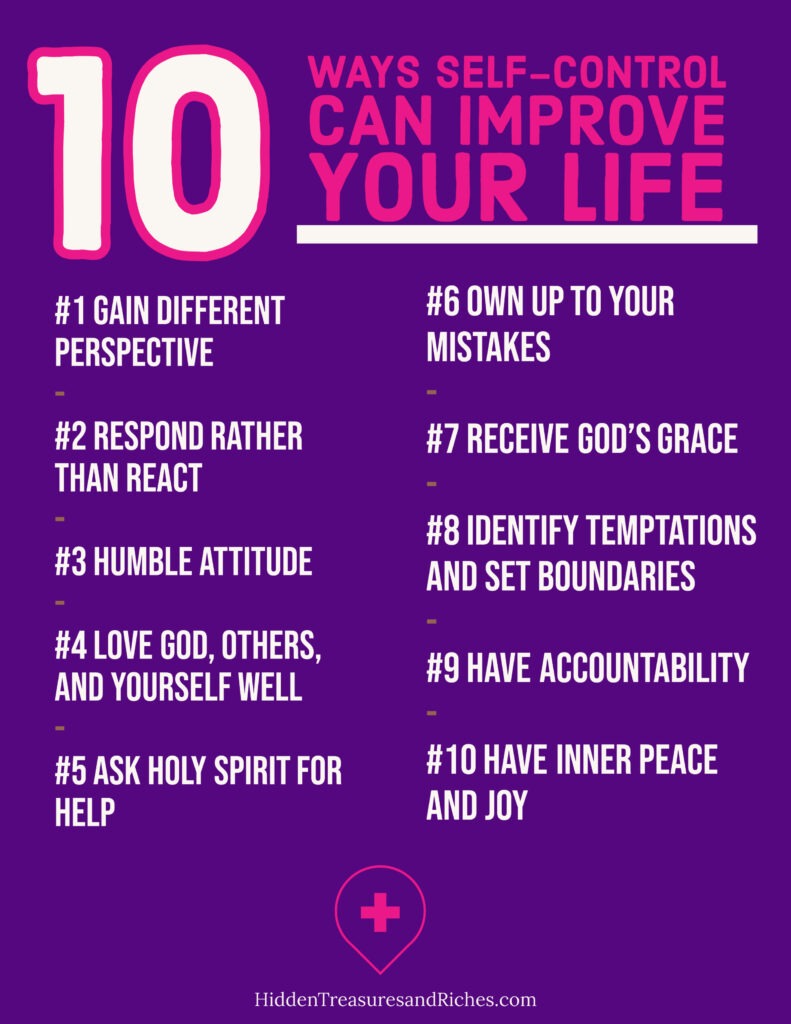 Self-disciple improves our lives and allows us to:
Look at our circumstances or situation from a different perspective. We can turn to the Lord and ask him, what does a particular situation mean and what must we do in the situation.
Respond rather that react to circumstances. By submitting our flesh and situations to God, we buy time to reflect before responding. It helps us not to respond with knee jerk reactions or in an unkind manner.
Be humble and recognize God's control over our lives.
Love God, others, and ourselves well. We are more effective witnesses for Christ as we model his character.
How can we develop more Self-control?
Regular meditation on the Word of God and asking for the Holy Spirit help in prayer.
Identify potential sources of temptation and put guards in place. For example, determine not visit certain sites on the internet, put filters in place. 
Confess your failures to God and others and receive God's grace.
Have an ongoing process of accountability.
How does this look in my life?
I don't pretend to have this down. While I have gained victory in some areas, I still face temptations in other areas every day. Like you, I want to exercise more self-control and I regularly ask God for help.
The key to having self-control is to turn to God! We can have inner peace and joy as we develop self-control.
Friend, Self-control is possible! You and I can do all things through Him who strengthens us. Philippians 2:13
Reflect: In what area of your life do you need to apply the fruit of self-control? Pray and ask God for help in that area.
This is the first post in our series on Fruit of the Spirit.