Day 7: Read Luke Chapter 7
The weight felt heavy
She was tired.
Tired of the stares and looks
Tired of the gossip
She'd had enough.
What else could she lose?
Willing to be humiliated and ridiculed one more time, she made up her mind to attend the dinner at Simon's house. Never mind that she wasn't on the guest list.
She'd heard so much about Jesus and how he cured many who had diseases, sicknesses, and evil spirits and even gave sight to those who were blind (Luke 7:21).
So, who is this woman?
Jesus and the other guests reclined around the dinner table. One look at Jesus, and she felt a huge relief. A flood of tears streamed down her face. She took Jesus' feet, wet them with her tears, and wiped them with her hair.
To make matters worse, she cracked open an alabaster jar filled with expensive perfume. She anointed Jesus' feet with the perfume. The sweet fragrance filled the entire room.
How would you feel if you were at the dinner with Jesus and the other guests?
Embarrassed, uncomfortable, ashamed, critical?
Maybe like Simon, the host, you're asking yourself, why is Jesus putting up with this woman's shenanigans? Does he not know who she is?
A woman who lived a sinful lifestyle.
Jesus knew her.
He saw her not as a prostitute but as the king's daughter, a child of God.
He saw her need for grace. He offered it to her without words, and she received hope, acceptance, and forgiveness.
She responded to Jesus' special gift of grace with overwhelming gratitude.
This Christmas, You, too, can Find Love, Forgiveness, and Peace with Jesus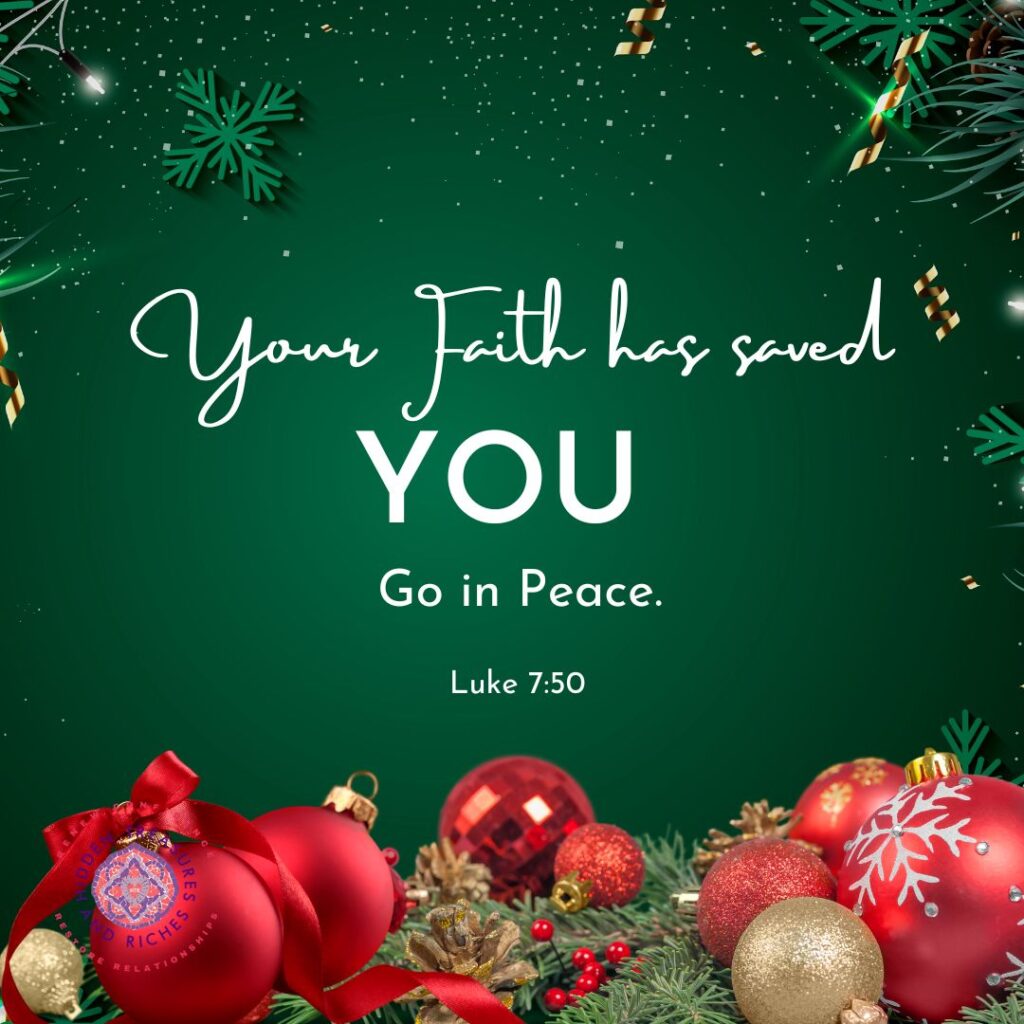 Friend, what do you need this Christmas?
Hope?
Forgiveness?
Love?
Peace?
Maybe you feel like a misfit, abandoned, ridiculed for your perspectives, rejected, or need freedom from addictions. Your past or present circumstances do not disqualify you from God's grace.
Jesus loves you.
He has reserved a place for you at the dinner table, and he has a gift just for you.
Are you ready to receive it?
This woman gave her heart to Jesus, and he transformed her life forever. He wants to do the same for you.
As I reflected on today's scriptures from Luke 7, the lyrics from the song, He Gave to Me a Seal, helped me express gratitude. I thanked Jesus for his incredible gift of salvation, forgiveness, and love for me. We sang it when I was growing up. Here are some of the lyrics
I shall treasure the seal
Though the debt is all paid
The seal told of the love of one
Who paid the debt for me
I looked at it and smiled
Again, I looked and wept
The earnest of his love for me,
I'll ever treasure it.
So, what will you give Jesus this Christmas?
Your heart?
Your love?
Your worship?
Something else?
Whatever you decide, Jesus is waiting for you. He's waiting to tell you, "Your faith has saved you; Go in Peace" (Luke 7:50).
Friend, God loves you!
Shalom! Peace!
Jesus said to the woman, "Your faith has saved you; go in peace." Luke 7:50
What treasures did you find in Luke 7? How will you let this woman's response help you draw closer to Jesus?
Day 7: This post is part of the Come Away with Jesus Christmas Challenge.
PS: What's your favorite Christmas tradition? Share in the comments.
Have you always been running? Running to please everyone and hoping for a change without the discomfort of letting go? Let me show you how to soar and start living your dreams. Let's talk. Book your FREE Call today.
You may also be interested in: What Can I Give Him?