Day 6: Read Luke Chapter 6
How are you doing with the Christmas Challenge? Some of you expressed that you've found the scriptures opened up to you in a new way. Thank you for sharing!
Today I'm reflecting on love and the golden rule.
Love… God's love, Agape love
Following Jesus is all about love.
We must love each other. As I read Luke 6:31-34 today, it hit me like a 2×4 in the face.  
How to Treat those Who are Hard to Love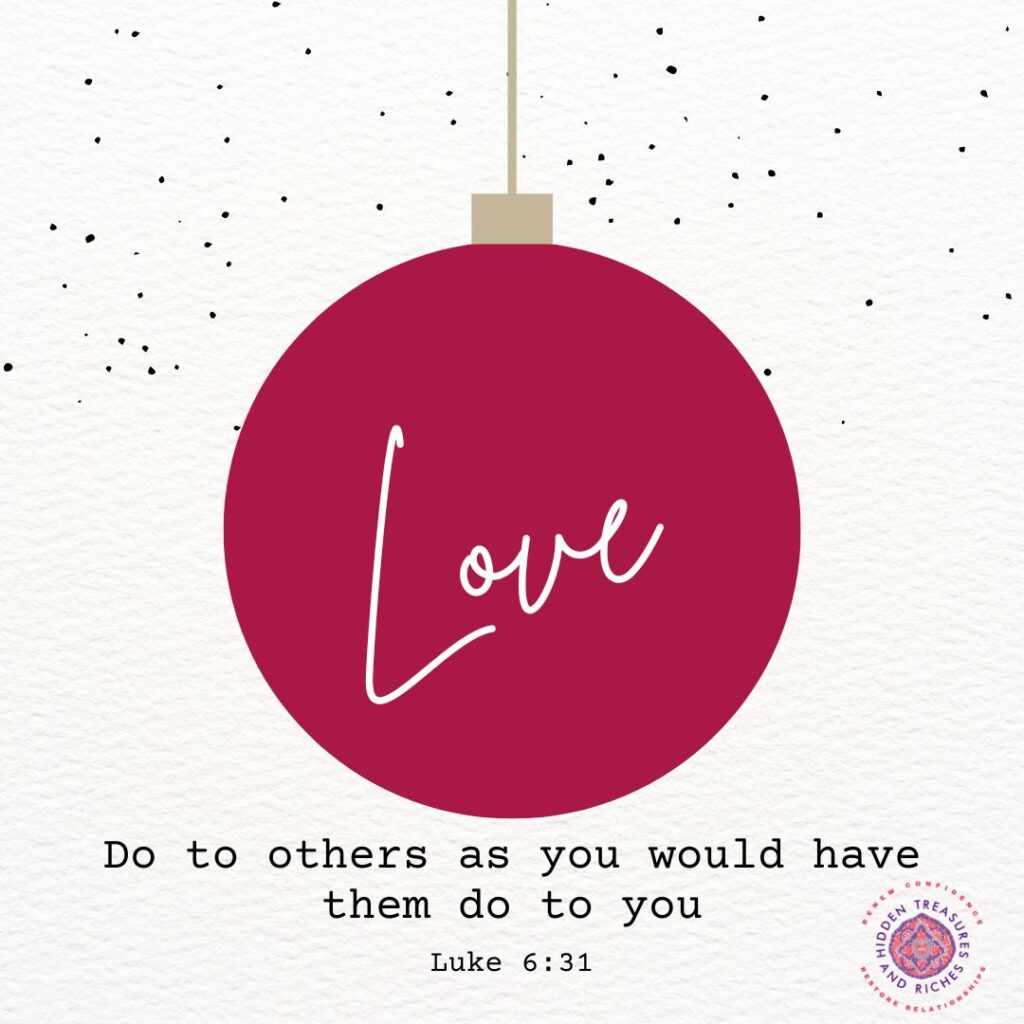 As a result, I examined my heart deeply and asked myself, how am I treating others? Do I treat them as I would like to be treated?
It's powerful to read these verses in The Message version.
Here is a simple rule of thumb for behavior: Ask yourself what you want people to do for you; then grab the initiative and do it for them! If you only love the lovable, do you expect a pat on the back? Run-of-the-mill sinners do that. If you only help those who help you, do you expect a medal? Garden-variety sinners do that. If you only give for what you hope to get out of it, do you think that's charity? The stingiest of pawnbrokers does that. Luke 6:31-34
Wow!
These words challenge me to look beyond my selfish nature and see the interests of others. In response, I cry out for help.
Prayer
Lord, when I think about all you've done for me, I have no excuse for not loving others well. You show me grace and mercy every day and every moment. Sometimes, I fall short in my thoughts, attitude, and behavior toward others. Please help me to do better. With your help, I can learn to love not only those who are lovable but also those who are hard to love. Please help me to treat everyone with dignity and honor. Thank you that I can love because of the love you have shown me. Thank you, Father. In Jesus' Name Amen. 
What treasures did you find in Luke 6? How do you respond to those who think or act differently than you?
Do to others as you would have them do to you. Luke 6:31
Day 6: This post is part of the Come Away with Jesus Christmas Challenge. Today's encouragement is from the treasures I gained from Luke 6 during my quiet time with Jesus.
PS: What's your favorite Christmas tradition? Share in the comments.
Have you always been running? Running to please everyone and hoping for a change without the discomfort of letting go? Let me show you how to soar and start living your dreams. Let's talk. Book your FREE Call today.
You may also be interested in: Feeling Inadequate? God Loves You and Fully Approves of You