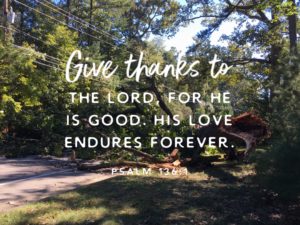 Friend: I was traveling home and was stopped at the light when a tree fell completely blocking the street. Its branches landed behind my car and the other car behind me.
This was a friend's experience during the recent tropical storm from hurricane Michael in our area. She and the others were startled when the tree fell, but she was thankful no one was hurt.
All over town, massive trees fell disrupting lives, bringing down power lines and damaging homes. Several areas lost power. In the last month, the South Eastern United States has experienced multiple storms that have left many people feeling out of control and vulnerable.
Fear grips our hearts. We are bombarded by "what ifs" as many scenarios overwhelm our minds…how do we rebuild our lives? Where do we begin? Soon our problems appear insurmountable. If we don't intentionally rein in our thoughts, we become overwhelmed. We lose sleep.
Friend, restoration and hope are possible. Let's remember all the ways God has helped us in the past. We can lean on God and exchange our fears, worries, and anxieties for gratitude.
We are alive.
There is hope.
He is faithful.
How to lower your anxiety and increase your peace:
My favorite method is recalling his faithfulness by personalizing Psalm 136.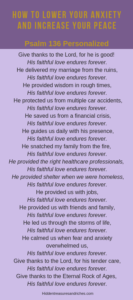 Like the psalmist, we too can be intentional and choose to remember God's past deeds as we bring our new cares and worries to him. Gratitude is the antidote worry, fear, and anxiety.
Do you want to lower your anxiety and increase your peace? Read Psalm 136.
Write your own personal remembrance story including times when God slew the giants of fear, "parted the red sea", and provided for you. As you remember, declare, "Lord, you are faithful!"
Prayer: Father, many are in distress from the recent hurricanes and storms in the South Eastern U. S. We confess that we are overwhelmed and need your help. Ignite our hope as we rebuild our lives, homes, and cities. We remember your faithfulness in the past and thank you in advance for how you will see us through. Recovery and restoration may take time, but we will trust you. In Jesus Name. Amen.
Give thanks to the Lord, for he is good! His faithful love endures forever. Psalm 136:1
Scriptures: Psalm 118:1-7, Psalm 107