How do you celebrate thanksgiving?
Next week in the United States we'll celebrate Thanksgiving. It is a time when families gather around the dinner table to share a meal and give thanks.
Thanksgiving prayers are expressions of our gratitude to God for his blessings, provision, love, and care. We can stay anchored through gratitude.
Thanksgiving prayers are essential to living a life of contentment and fulfillment. It is like applying WD-40 to a rusty door that will not open.
Even in the middle of the hardest battles, we have the assurance that God's goodness and mercy surround us every day of our lives. God prepares a banquet for us, even in the fiercest storms and trials of life.
We don't always remember these truths when we are bamboozled by life. But anchoring ourselves through gratitude is a rewarding practice that keeps our hearts connected with God.
By staying anchored in gratitude, we declare that we trust God as the only one who can help us.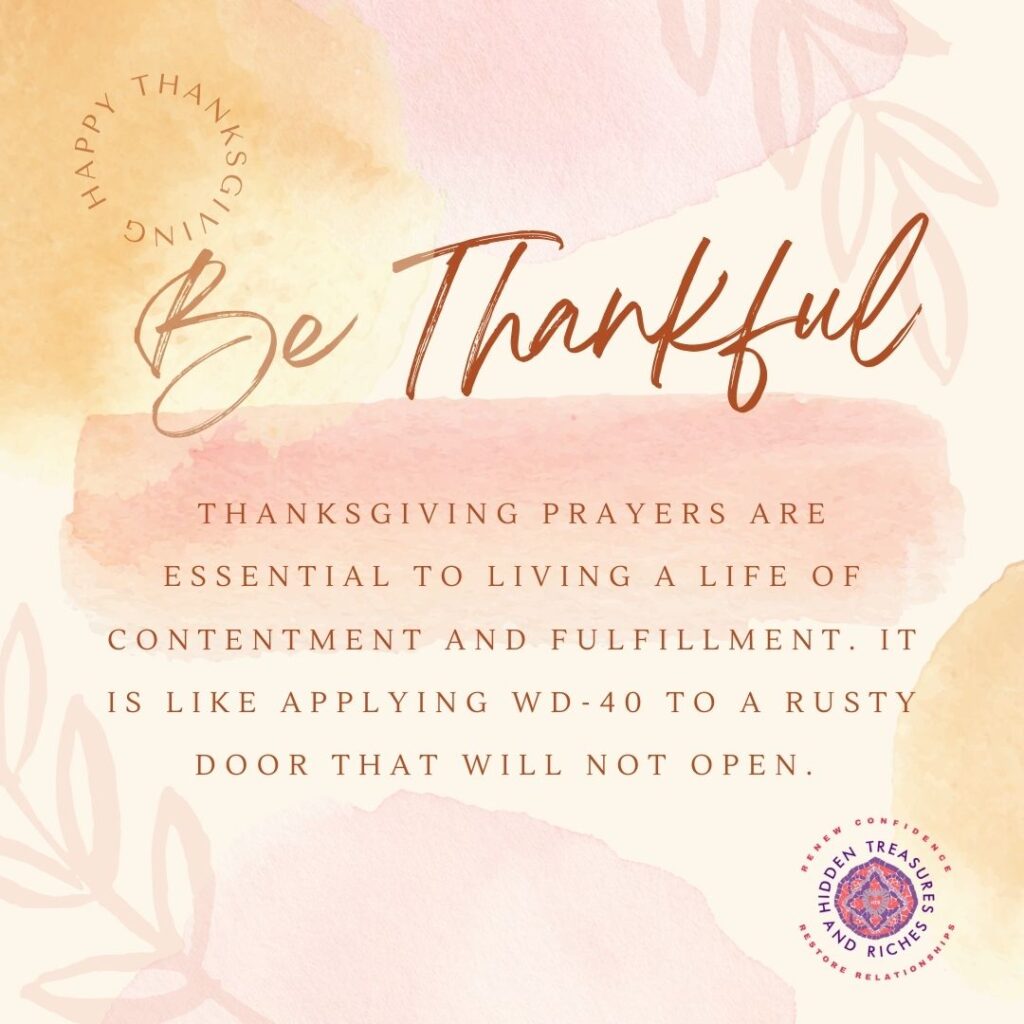 Thanksgiving Prayers in the Bible
The Bible has many examples of prayers of thanksgiving which are offered for many reasons and at different occasions and times.
For instance, in 1 Chronicles 23:30, the Levites offered prayers of thanks and praise to God every morning and evening.
When the Israelites were rebuilding the temple in Jerusalem, they offered a prayer of gratitude as the foundation was laid.
And when the builders laid the foundation of the temple of the Lord, the priests in their vestments came forward with trumpets, and the Levites, the sons of Asaph, with cymbals, to praise the Lord, according to the directions of David king of Israel. And they sang responsively, praising and giving thanks to the Lord, "For he is good, for his steadfast love endures forever toward Israel." And all the people shouted with a great shout when they praised the Lord. Ezra 3:10-11
In the New Testament, Paul started many of his letters with thanksgiving prayers for those who partnered with him in the ministry.
We give thanks for you, and I always thank my God when I pray for you.
Every time I think of you, I give thanks to my God. Whenever I pray, I make my requests for all of you with joy, for you have been my partners in spreading the Good News about Christ from the time you first heard it until now. Philippians 1:3-5
When we are anchored through gratitude, we acknowledge and celebrate God's Sovereignty and goodness, and in return prayers of thanksgiving flow from our hearts.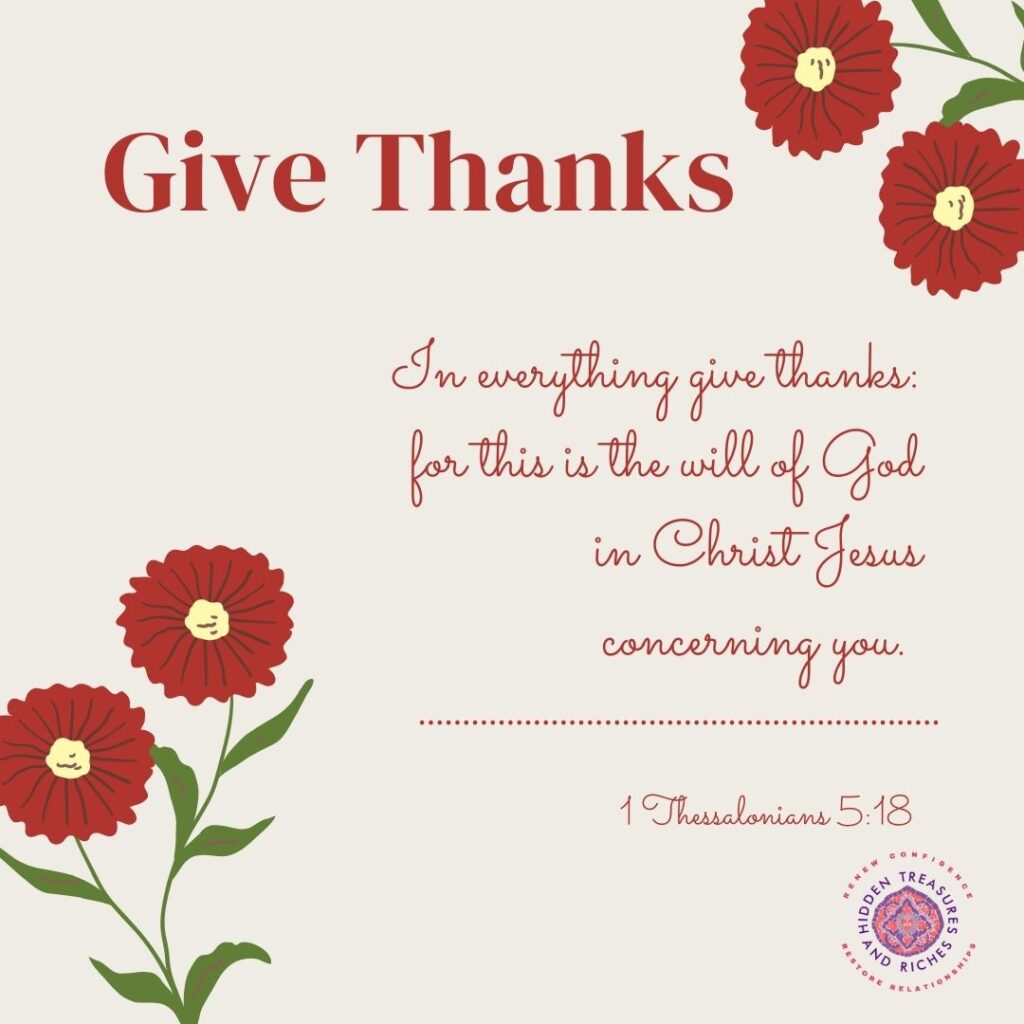 Types of Thanksgiving Prayers
There is no specific formula for when or how to offer a prayer of thanksgiving, but we can find examples in the Bible to guide us. We can offer prayers of thanks for:
Everything
In everything give thanks: for this is the will of God in Christ Jesus concerning you. 1 Thessalonians 5:18
Healing
One of them, when he saw that he was healed, came back to Jesus, shouting, "Praise God!" He fell to the ground at Jesus' feet, thanking him for what he had done. This man was a Samaritan. Luke 17: 15-16
Protection
I give you thanks, O Lord, with all my heart; I will sing your praises before the gods.
I bow before your holy Temple as I worship. I praise your name for your unfailing love and faithfulness;
for your promises are backed by all the honor of your name. As soon as I pray, you answer me; you encourage me by giving me strength. Psalm 138:1-3
Wisdom
I thank and praise you, God of my ancestors, for you have given me wisdom and strength.
You have told me what we asked of you and revealed to us what the king demanded. Daniel 2:23
Deliverance
Blessed be the Lord, who daily bears us up; God is our salvation. Psalm 68:19
As you prepare to gather around the table with family, my prayer is that you will remember to stay anchored through gratitude and experience God's abundant love and peace.
Have a blessed and stress-free Thanksgiving!
A Prayer to help you prepare for Thanksgiving
Father as we gather to celebrate Thanksgiving, please prepare our hearts and minds. Bless our interactions and conversations with your presence and love. Fill our hearts with gratitude and for those family members and friends who may be struggling wash over them with your peace. Lord, help me to stay anchored in your love no matter what. Thank you for my family and for your faithfulness. In Jesus Name Amen.
As you prepare for Thanksgiving, I challenge you to take a moment each day to bless each of your family members by name.
Grab your FREE Gift Bundle of Blessings to help you cultivate a heart of gratitude and joy
Need coaching support to discover your identity, renew your confidence, or improve your relationships? Book a FREE Discovery Call Here.
You may also be interested in Gratitude and Joyful Giving and Cultivating a Grateful Heart.
You can also watch Thanksgiving Prayers: Anchored Through Gratitude