Who do you look up to as your role model?
Mary felt alone because of the stigma surrounding her pregnancy. As a pregnant teenager, she had no experience. She needed someone to guide her.
Thankfully, the angel also told her about her relative, Elizabeth, who was pregnant. Perhaps she could look to her for spiritual mentoring and guidance.
What is Spiritual Mentoring?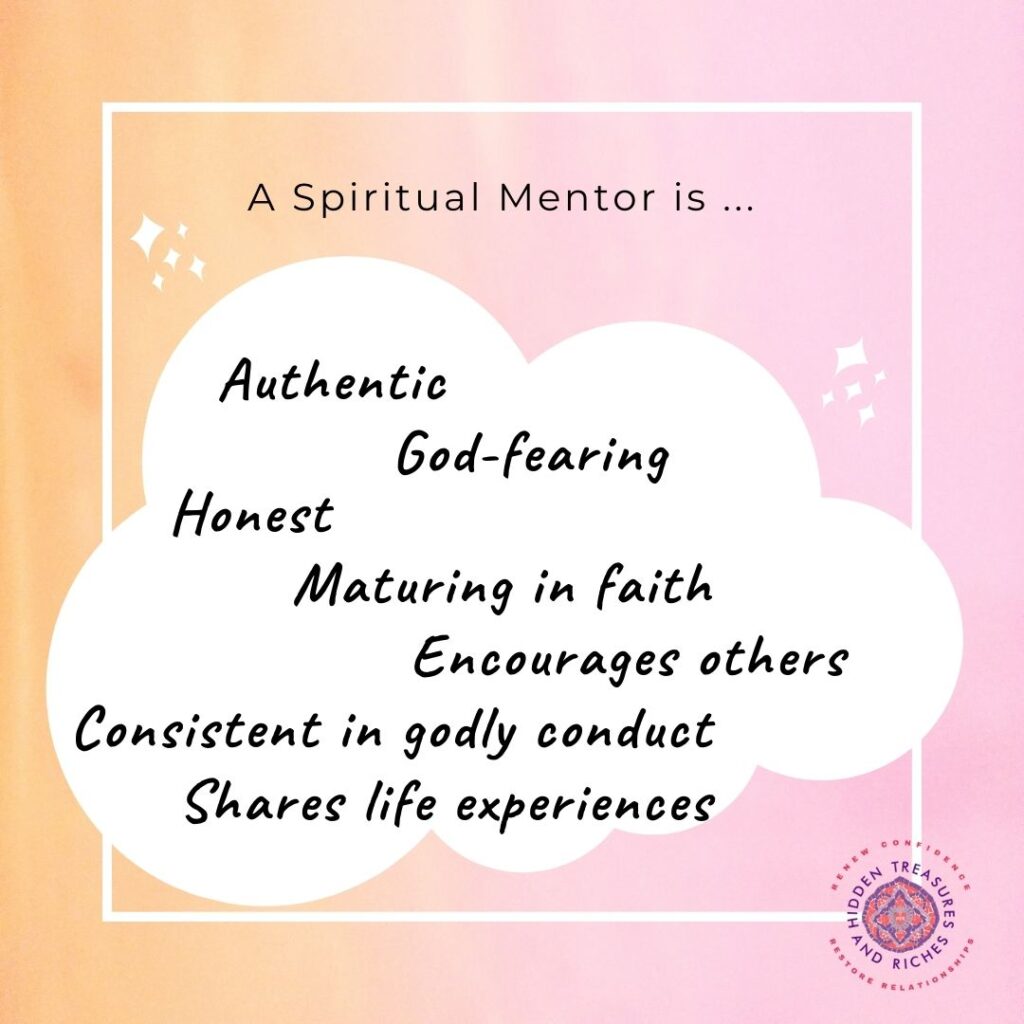 A spiritual mentor is a person who has walked the path that you are currently on and can guide and support you. Christian mentors want the best for you, and so they empower you to be your best and grow your faith in God. They can provide encouragement, support, confidence, and inspire hope.
What are the benefits of having a spiritual mentor?
The Power and advantages of Spiritual Mentoring
Honest and Authentic Role Model
Elizabeth was the daughter of a priest, and she was married to Zechariah. She and her husband were devoted to serving the Lord, but they were childless for many years (Luke 1:5-26). An angel appeared to Zechariah and told him his wife would bear a son. Elizabeth was six months pregnant when Mary came to visit her.
Elizabeth is an example of a spiritual mentor. She was a wise woman who was consistent in her walk with the Lord. She developed a quiet lifestyle of worship despite her barrenness.
Who else could better guide Mary? Elizabeth was further along in her pregnancy. As an older woman, she could offer spiritual mentoring and share life experiences with Mary.
Are you in need of a spiritual mentor? What should you look for? Look for characteristics such as maturing faith, consistency in godly conduct, wisdom, encouraging others, authenticity, and life experiences.
To serve as a spiritual mentor and support others requires us to spend time in God's presence and take time to be filled daily.  
Joy in Seeing God's Actions in the Life of Others
A spiritual mentor is an encourager at heart. They usually discern where God is at work in the life of others. They rejoice with others without comparison or competition.
Elizabeth was the first to recognize Mary as the mother of the Messiah. As soon as she heard Mary's greeting, the baby in her womb leaped, and the Holy Spirit filled her. She affirmed Mary as she sang with joy…
You're so blessed among women,
and the babe in your womb, also blessed!
And why am I so blessed that
the mother of my Lord visits me?
The moment the sound of your
greeting entered my ears,
The babe in my womb
skipped like a lamb for sheer joy.
Blessed woman, who believed what God said,
believed every word would come true! Luke 1:41-45 MSG
Mary praised and worshipped God in response to Elizabeth's encouragement. She sang…
I'm bursting with God-news;
I'm dancing the song of my Savior God.
God took one good look at me, and look what happened—
I'm the most fortunate woman on earth!
What God has done for me will never be forgotten,
the God whose very name is holy, set apart from all others. Luke 1: 46-49
A spiritual mentor will recognize God's actions in your life, believe in your vision, and call it out. Who in your life can you encourage or empower in their service to the Lord by calling out their gifts?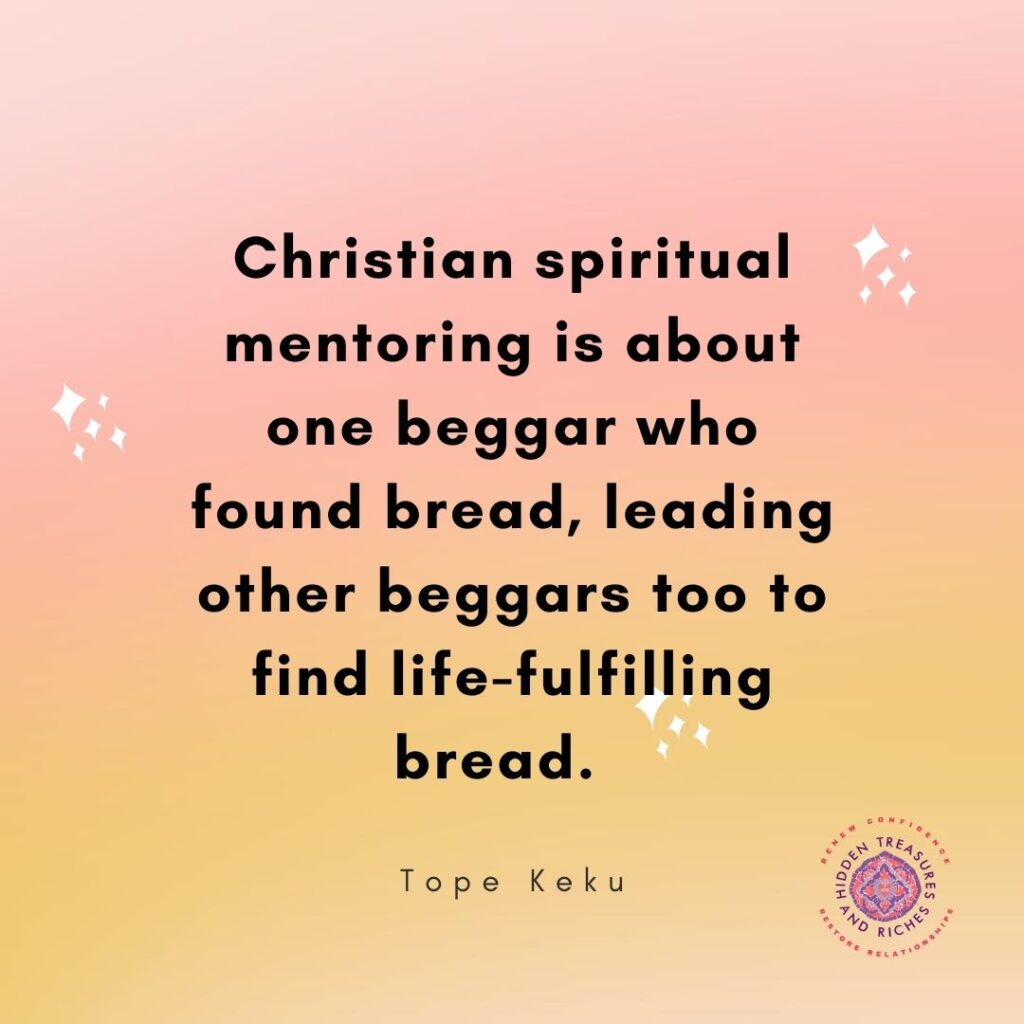 Encouraging Environment that Inspires Bold Faith
Can you picture Elizabeth and Mary sitting around the table having tea together? Imagine you are there with them; notice how Elizabeth listened to Mary's many questions. Her wise counsel inspired Mary's faith and confidence.
Elizabeth is a great hostess. Her home is peaceful, and their friendly interactions encouraged Mary to stay for three months.
Who has inspired your faith and encouraged you to live for God's glory this year?
Spiritual mentoring has eternal value and is essential for physical, emotional, and spiritual wellbeing.
Christian mentoring is about sharing God's word, prayers, and life together. It is about a beggar who found bread, leading other beggars too to find life-fulfilling bread.
As you reflect on your year, take a moment to thank God for your spiritual mentors. Better yet, write them a note of appreciation. Get your FREE Spiritual Mentoring worksheet here.
Need coaching support to discover your identity, renew your confidence, or improve your relationships? Book a FREE Discovery Call Here.
You may also be interested in Love the Next Generation Through Mentoring