Are you frustrated with your prayer life? Do you find it difficult to pray and apply scripture to everyday situations?
"I don't know how to pray for my children," confessed a frustrated mom.
Finding the right words to pray may be difficult at times. Thankfully, we have help. The Bible has an abundance of passages that we can pray for ourselves and loved ones.
The Bible includes various prayers on blessings, repentance, protection, praise, healing, grace, love, spiritual maturity, wisdom, and intimacy with God.
The most common way to pray the scriptures is to personalize a verse with your name or a loved one's name. We can transform our prayer lives by combining it with meditating on scripture.
Benefits of Scripture Meditation and Prayer
Prayer is an essential and powerful tool that we need in our spiritual toolbox. If there is a time we need prayer, it is today.
Life is full of troubles that are often beyond our control. Maybe you have a loved one who has a terminal diagnosis, or you are dealing with grief, job loss, or issues with your adult children.
With all these burdens weighing on our hearts, where do we find relief? How do you keep from getting discouraged?
Meditating on Scripture and Prayer.
As you meditate on scripture and pray, your faith will increase, and your relationship with God will grow stronger. Meditating on scripture and praying provides comfort and refreshment for the soul. It can help us apply God's word to our everyday situations like how to raise our children, our decisions, relationships at home and work, and our choices.
4 Steps for Scripture Meditation and Prayer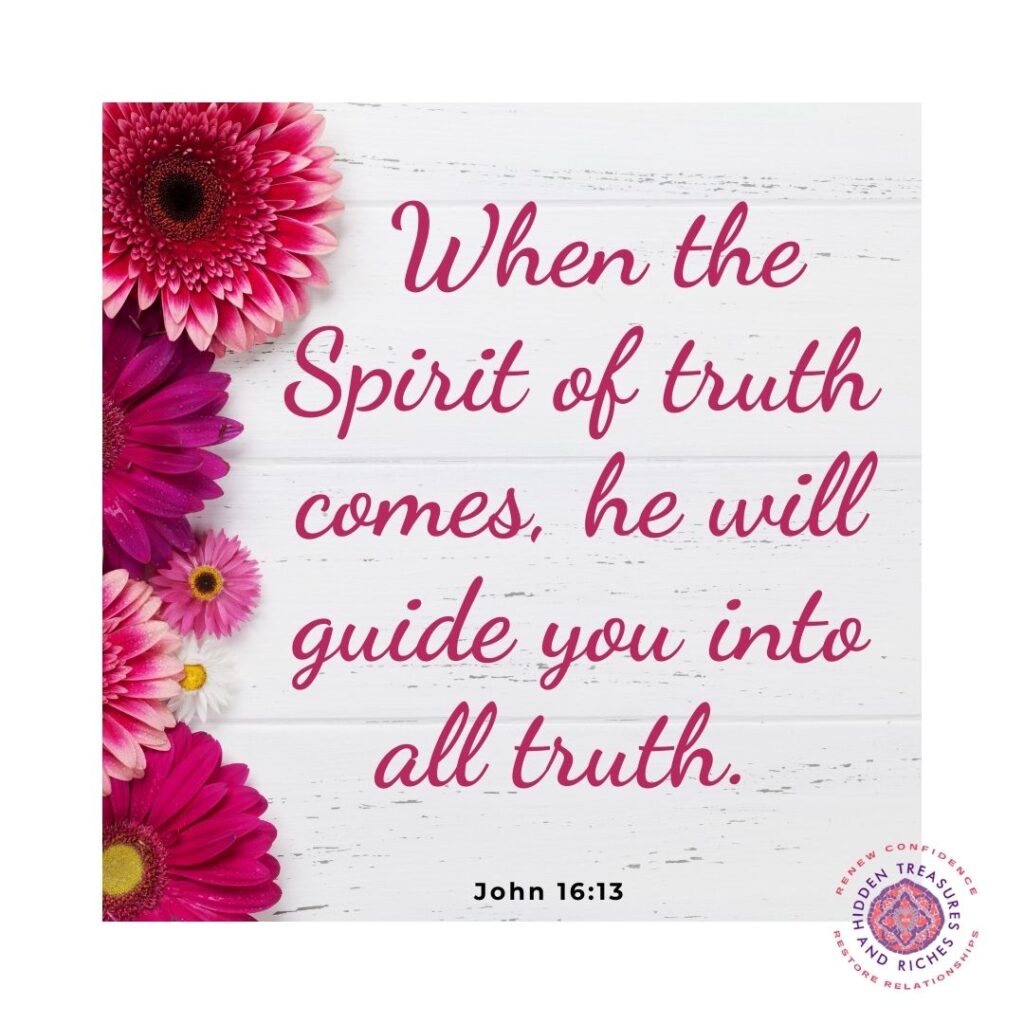 Pray
As you approach your meditation time, begin with prayer to clear the clutter and prepare your mind to receive from the Lord.
Ask God to open your eyes that you may see the wonderful things in his law (Psalm 119:18). Ask God for inspiration, revelation, and understanding of the scripture you are about to study. We need God to open our understanding to his truth (John 14:26, 1 Corinthians 2:14).
Meditation
Imagine you are about to dive into your favorite dessert, let's say2 apple pie topped with vanilla ice cream. As you take the first bite, the ice cream fills your mouth with a melting sensation. You linger and savor every bite as you enjoy your dessert.
Now identify the scripture you want to meditate on, dive in just as you would with your favorite dessert, and allow it to warm your heart. Read the scripture in context first. Then choose a verse or short passage and read it slowly a couple of times. Let the words soak in your spirit. As you reflect on it, write the scripture in your journal.
Receive the Truths and Insights
Pay attention to the truths and insights the Lord brings to mind. This could be a new insight about God and his provision for you in the past. It could be his power, his constant love for you, and his providence over your circumstances. You and I cannot see these truths without God's illumination.
Respond with prayer
Respond to the truths with prayer. Think deeply about the insights, digest them, and then speak to God in prayer. Now that you've personalized this scripture through meditation, you can write a personal prayer in your journal.  
This process takes time. Don't Rush It!  
Reading scripture, meditation and prayer belong together like a peanut butter and jelly sandwich. This process will increase your faith and confidence in God.
Meditation and Prayer: Let's work through an example with Psalm 23.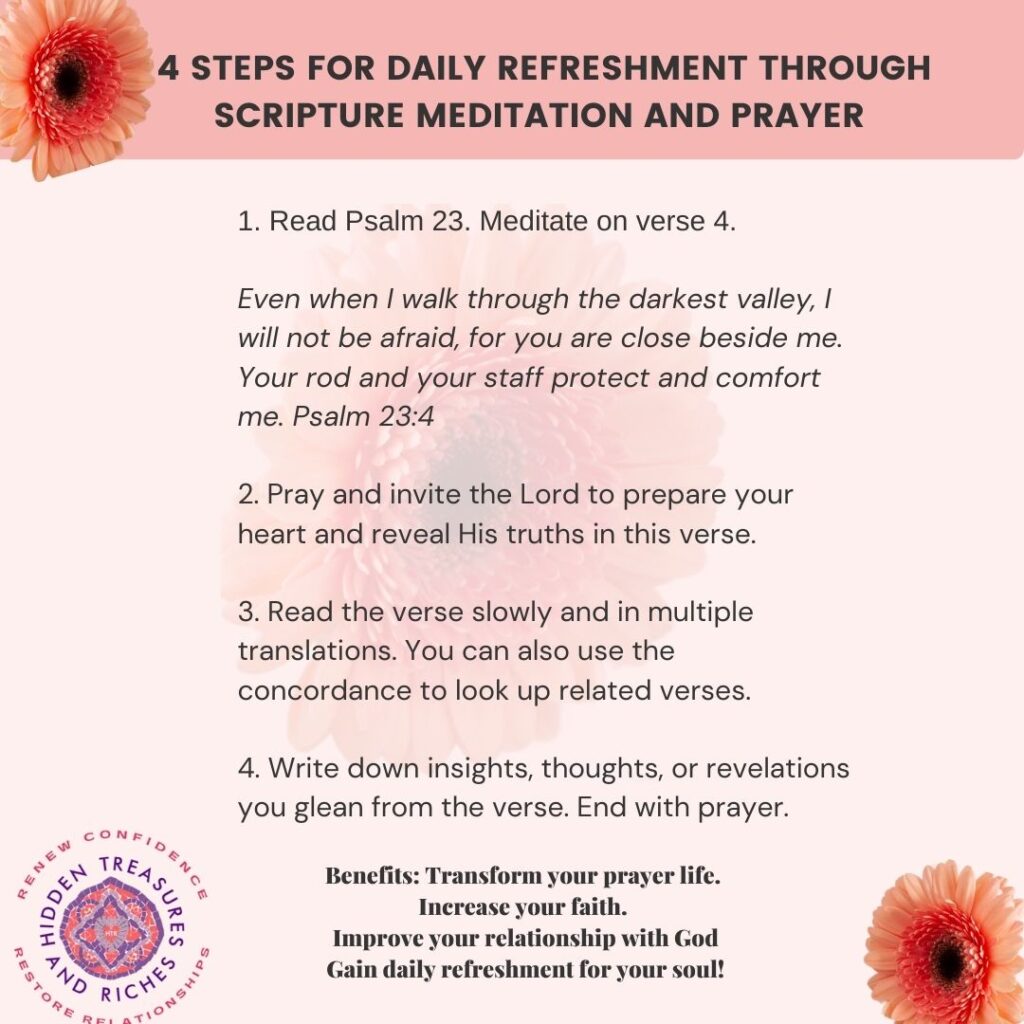 Read Psalm 23. Let's choose to meditate on verse 4.
Even when I walk through the darkest valley, I will not be afraid,  for you are close beside me. Your rod and your staff protect and comfort me. Psalm 23:4
Pray and invite the Lord to prepare your heart and reveal His truths in this verse.
Read the verse slowly and in multiple translations. You can also use the concordance to look up related verses.
Write down insights, thoughts, or revelations you glean from the verse
Questions for Reflection
What dark valleys are you currently walking through? How has the Lord helped you walk through dark valleys in the past?
What are fears lurking in this dark valley? How do your fears line up with God's promises in this verse? What can you do to release your fears?
What comfort can you glean from Psalm 23:4? From this verse, we can take comfort in knowing that the Lord is right there with us in our dark valleys. How do we know this? Because the Lord says so.
We can also look at other relevant scriptures (Psalm 56:9, Psalm 16:8, Psalm 121:3-4, Psalm 145:8) that support His claim.
In summary, Psalm 23:4 encourages us to trust that the Lord is on our side. He is not only with you, but He is also in you through the Holy Spirit, and He is for you!
End with a prayer based on the insights you gained from meditating on this verse.
Prayer
Lord, you know the dark valley I am going through right now. You promise to be near and comfort me in my affliction. You have been with me in the valley in the past. Your word reminds me that you are working on my behalf behind the scenes. You are fully awake and alert to my current challenges. I confess my fears and ask you to reveal your purpose for this valley. Thank you for helping me to lean on your strength and trust you as my Comforter. In Jesus Name, Amen.
How do you apply scripture to your daily life? Share in the comment below.
You may also be interested in Hope toolbox, prayer and children, and Trust.
If you need coaching support, book a FREE Discovery Call Here.