Where do you turn when you find yourself in an unexpected storm?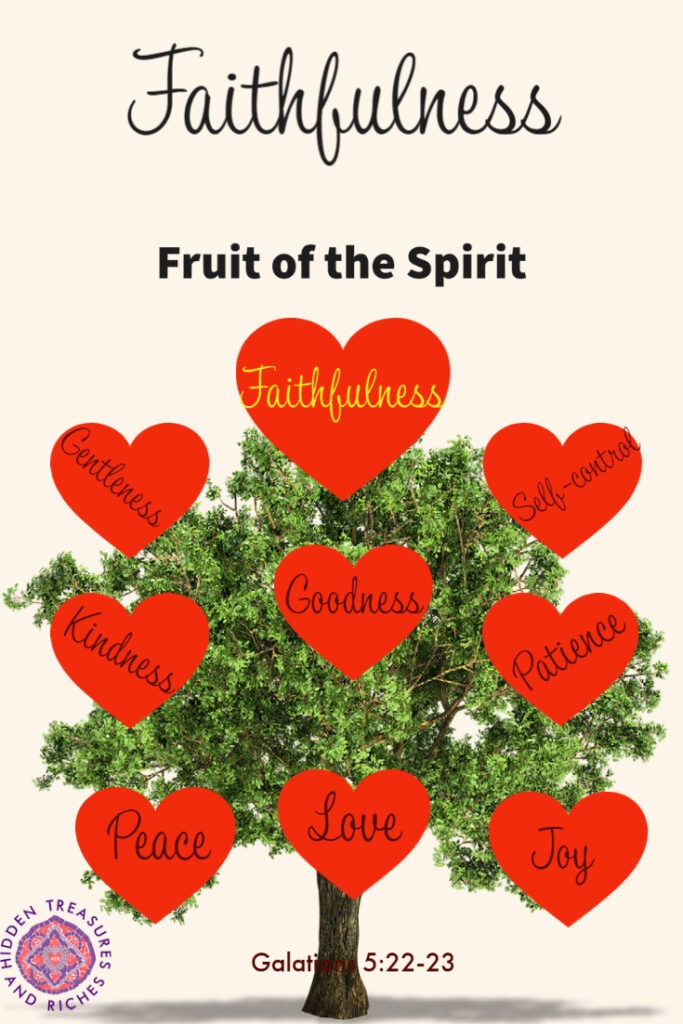 Everyone encounters an unexpected storm at some point in their life. It might be a debilitating illness or the death of a spouse. It could be that others openly mock you for your faith or a colleague continually works to sabotage your career. Maybe someone is bullying your disabled child for being different, or perhaps your spouse walked out on you.
These experiences can affect your faith in profound and damaging ways. They can leave us questioning what we believe, why we believe it, and if God even cares about our suffering.
Elimelech, his wife Naomi, and their family lived a good life in Moab for about ten years when tragedy suddenly struck. Naomi's husband and two sons died within a short time of each other. Naomi's life was in shambles.
In her grief, she thought, how could I put the pieces of my life back together? She was left with two daughters-in-law, Ruth and Orpah. Naomi was angry at God and felt betrayed by Him. She questioned how God could even think to let her down (Ruth 1: 20). She decided to return home to Judah, and Ruth, her daughter-in-law, insisted on going with her.
Your situation may be different from Naomi's, but maybe you can relate to her feelings. It's natural to feel disappointed but leaning on God and working through it in a healthy way is essential to finding healing and freedom.
God's first, middle, and last name is faithfulness.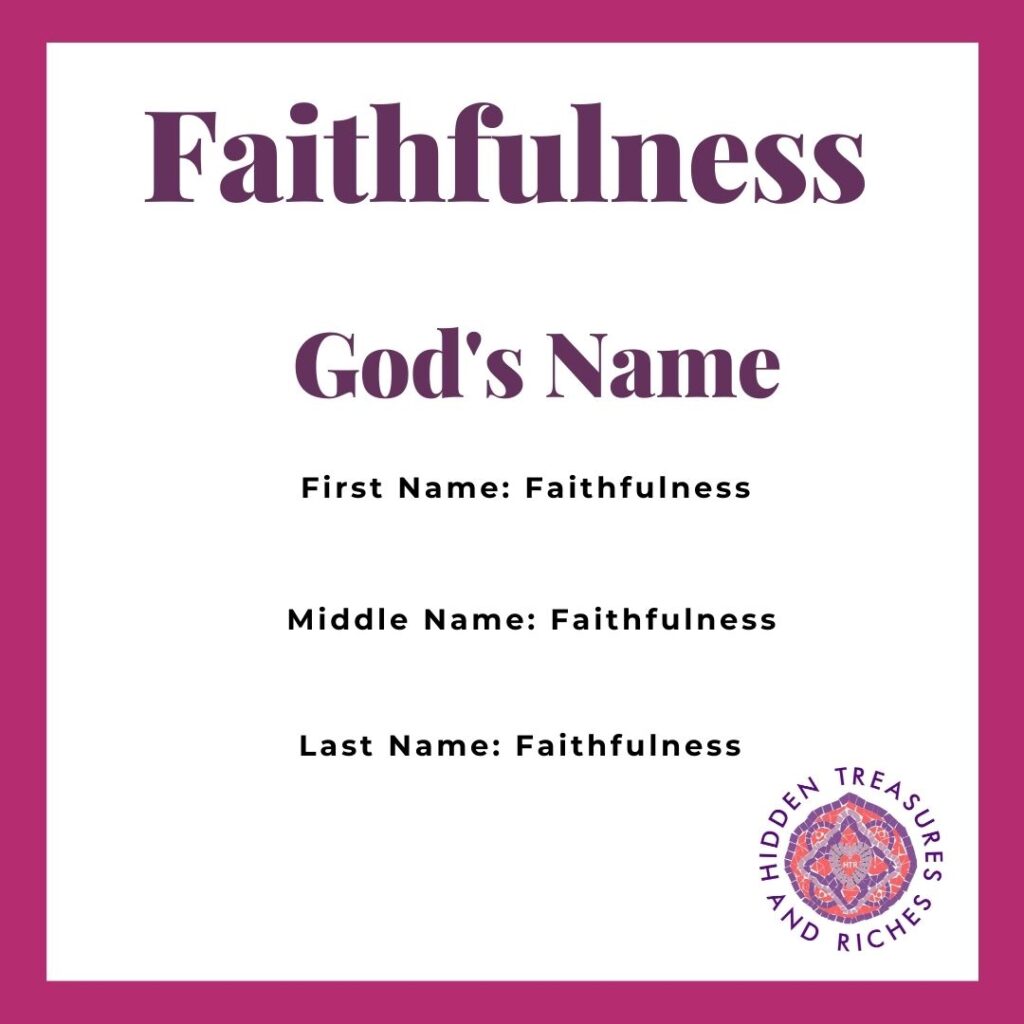 In the middle of our fiercest storm, God is ever so near. He never leaves us during hard times when the bottom drops out from under us. He works through the tragedy as only he can. The storms of life can provide opportunities to experience God's faithfulness and grow to trust Him.
In time Naomi and Ruth saw God's faithfulness first-hand in Judah. Naomi declared, God hasn't walked out on us after all. He still loves us in bad times as well as good (Ruth 2:20 MSG).
Why is Faithfulness Important?
Faithfulness is an essential attribute of God.
We have faith in God because of His faithfulness. He is reliable, trustworthy, dependable, loyal, and dedicated. Throughout the scriptures, we see evidence that he is faithful to his promises.
God is not human, that he should lie, not a human being, that he should change his mind.
Does he speak and then not act? Does he promise and not fulfill? Numbers 23:19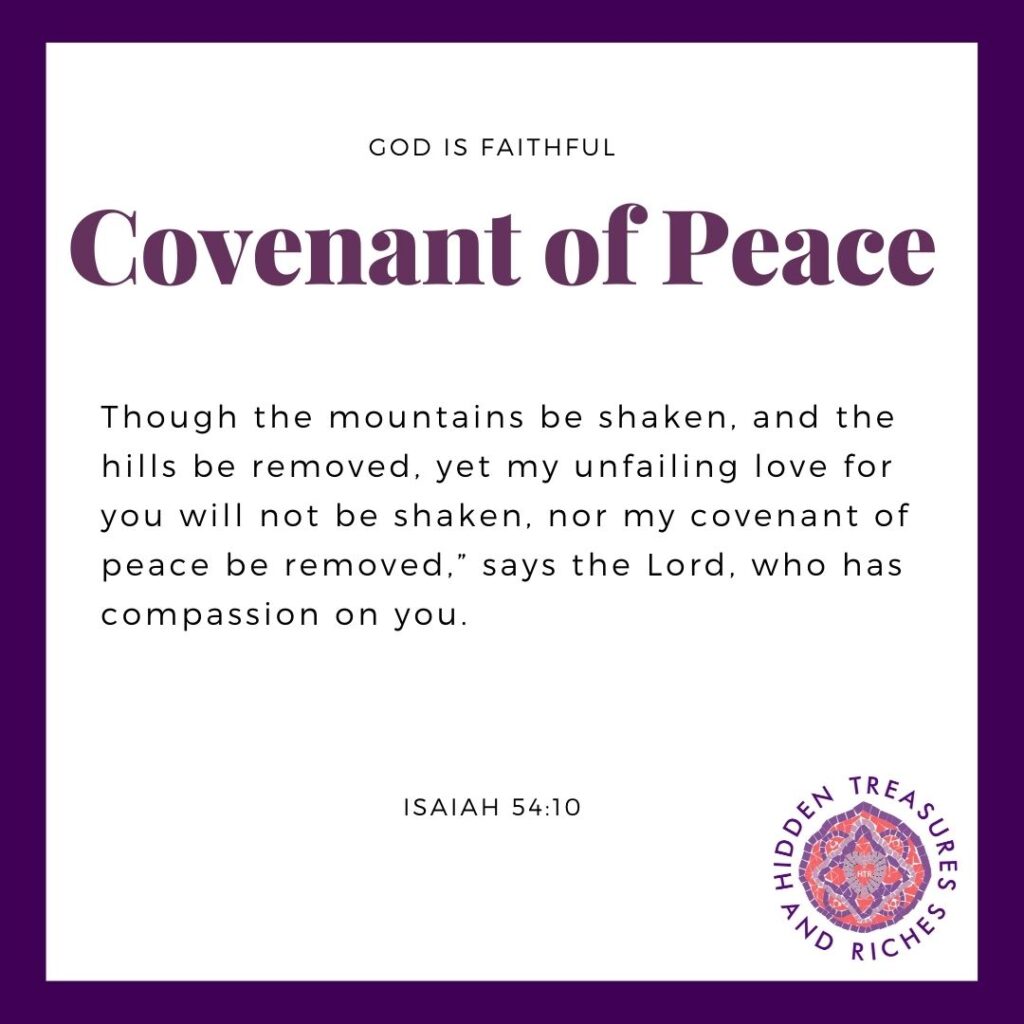 God is faithful, who has called you into fellowship with his Son, Jesus Christ our Lord. 1 Cor 1:9
These scriptures are beautiful reminders of God's loyalty to us.
3 Ways to Grow in Faithfulness
Faith is a crucial element for every true believer in Christ.
It is impossible to please God without faith. Anyone who wants to come to him must believe that God exists and that he rewards those who sincerely seek him. Hebrews 11:6
1) Believe.
To have faith is to believe in God. To grow in faithfulness means you and I must approach God with complete trust. He is who he says He is and will deliver on his promises.
Now faith is confidence in what we hope for and assurance about what we do not see. Hebrews 11:1
God uses our difficult situations and storms of life to grow our faith. No matter the circumstances we find ourselves in, we can trust that God is strong enough to take our burdens and use them for good. We are blessed when we put our confidence in God.
But blessed is the one who trusts in the Lord, whose confidence is in him. They will be like a tree planted by the water that sends out its roots by the stream. It does not fear when heat comes; its leaves are always green. It has no worries in a year of drought and never fails to bear fruit. Jeremiah. 17:7-8
2) Spend Time with Him.
To grow in faithfulness, we need to cultivate a daily habit of spending time with God. As we grow closer to Him, we will develop spiritual strength and faith that can hold under pressure. With time, trust in God's power becomes a part of our lifestyle that is fueled by the Holy Spirit in us.
God's faithfulness is the foundation of his character and the basis of our faith in Him. God's faithfulness will outlast anything you and I can ever hear or see. God loves you perfectly!
Need a refresher on God's faithfulness?
3) Meditate on His promises.
Let us hold unswervingly to the hope we profess, for he who promised is faithful. Hebrews 10:23
May God himself, the God of peace, sanctify you through and through. May your whole spirit, soul, and body be kept blameless at the coming of our Lord Jesus Christ. The one who calls you is faithful, and he will do it. 1 Thessalonians 5:23-24
One of my favorite hymns on God's faithfulness is from Lamentations 3:22-23.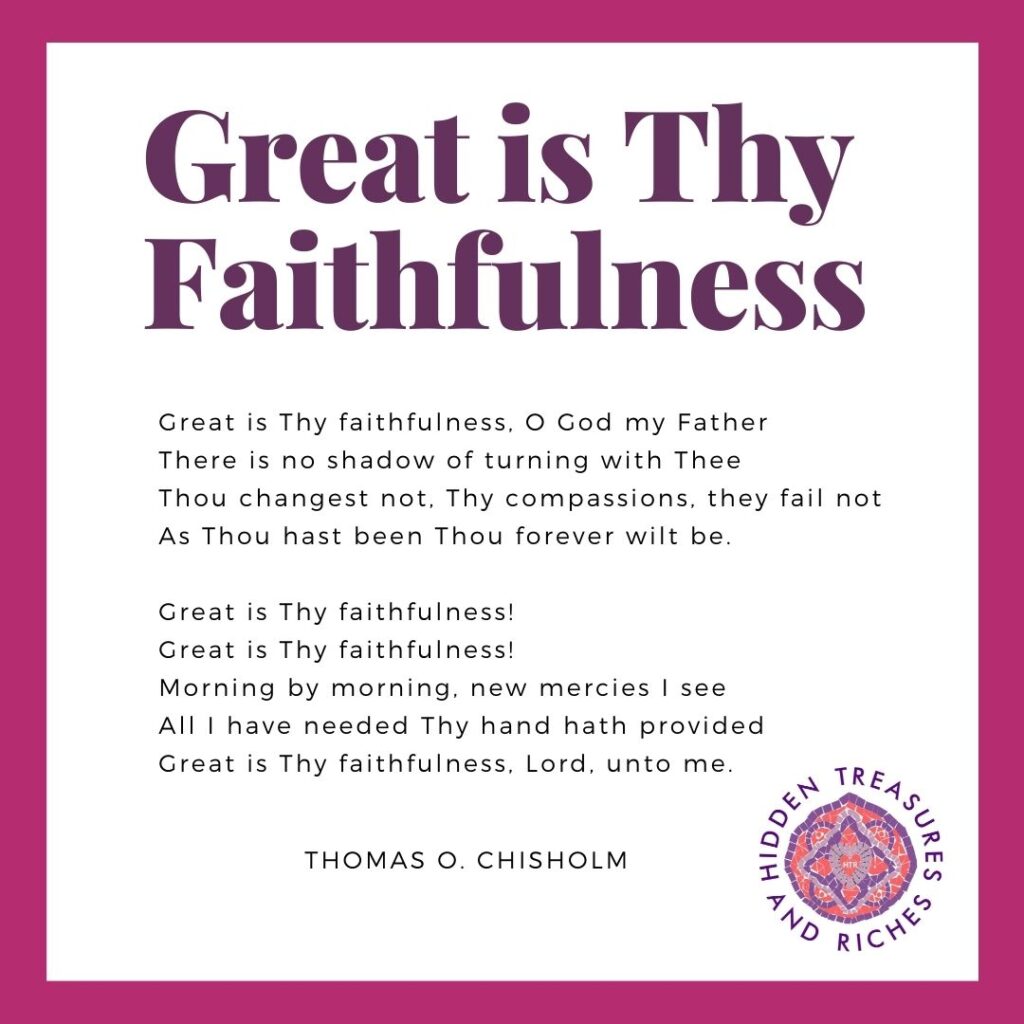 Though Naomi and Ruth experienced grief and loss, their story demonstrates God's faithfulness. Ruth was blessed with a new husband and child. Naomi became a grandma, and they both ended up in the lineage of Jesus.
We can replace our fear with God's faithfulness. He will never walk out on you and me. He loves us in bad times as well as good times.
In what ways will you ask God for a fresh revelation of His faithfulness?
This post is part of our series on the Fruit of the Spirit