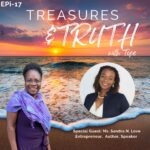 Click The Red Button To Unleash Your Hidden Potential
Are you feeling overwhelmed with life's unexpected changes? Do you play the blame game when you're frustrated?
Don't let uncertainty keep you down. Remember that you are never alone, and God is always with you during the good and bad times. Our special guest on the show is Ms. Sandra Love, a corporate consultant and trainer, dynamic Keynote speaker, and an exciting entrepreneur. She is one of 12 children and was an atheist until she encountered Jesus.  
You'll hear how she developed her latest Game, The BEST Game.TM She'll share how God's been a guiding light through her adventurous journey as an entrepreneur and reignite your inner blessings!
You'll come away with deep insights to help you navigate through life's unexpected journey. You'll learn to find new paths to success and reignite your inner blessings!
You don't want to miss today's show if you're an entrepreneur.
Thanks for tuning in to this episode. Join us next time for more inspiring stories of faith, hope, and discovering treasures in troubled times! If you enjoyed this episode, please leave a rating and review, and share it with your friends to help spread the word.
Have a blessed day!
Listen on Spotify, Apple, or your favorite podcast platform
Connect with Ms. Sandra Love or Invite her to Speak
Website: www.CoreSuccessDynamics.com
Website: SandraNlove.com
Facebook: @SandraNlove
Resources From Sandra N. Love (Available on her website)
"MySuccess Journal series" that shifts the inner narrative to redefine THE BEST blissful legacy
 
"The BEST Game" bliss boosting story-telling game plan that improves clarity, strategy & community
Additional Resources from Hidden Treasures and Riches :
Available on Amazon: Thankful Everyday: A Gratitude Journal to Refresh Your Soul and Increase Your Joy
Available on Amazon: Weathering Storms: Finding Treasures in the Ruins