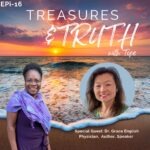 Click The Red Button To Unleash Your Hidden Potential
Have you ever felt like there was something you had done that you wanted to leave in the past? Some moments in our lives are harder to face than others. Sometimes the pain can feel unbearable, and we lock away our secrets, too ashamed or scared to tell anyone. But there is hope.
The special guest on the show today is Dr. Grace English. Grace shares her challenging journey of getting real to heal from a past abortion. You'll hear how Jesus opened her eyes to truths within and guided her toward recovery. By taking this journey of self-reflection and acknowledging her pain, Grace received healing, forgiveness, and new life in Jesus.
Grace founded Christ-centered Abortion Recovery and Education (CARE), a non-profit organization that helps women and men find healing from a past abortion. She is a board-certified internal medicine Physician, Speaker, Writer, and Medical Missionary. She is an advocate voice for the life of the unborn and the impact of abortion on the human heart.
If you're feeling shame and guilt from your past, would you like to approach the situation differently? You won't want to miss this inspiring and powerful episode with Dr. Grace English. You'll discover true hope, healing, and freedom that's possible with Jesus. You'll be encouraged to let go of the pain and grief and find a path to healing and wholeness. Breaking free from your past pain is possible!
Thanks for tuning in to this episode. Join us next time for more inspiring stories of faith, hope, and discovering treasures in troubled times! If you enjoyed this episode, please leave a rating and review, and share it with your friends.
Have a blessed day!
Listen on Spotify, Apple, or your favorite podcast platform
Connect with Dr. Grace English or Invite her to Speak
Website: https://drgraceenglish.com/
Email: [email protected]
Facebook: Dr. Grace English Speaker
Resources From Dr. Grace English
How Do I Forgive Myself? 4 Steps to Healing From the Past (FREE Resource)
Additional Resources from Hidden Treasures and Riches :
Available on Amazon: Thankful Everyday: A Gratitude Journal to Refresh Your Soul and Increase Your Joy
Available on Amazon: Weathering Storms: Finding Treasures in the Ruins