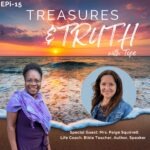 Click The Red Button To Unleash Your Hidden Potential
Do you have concerns about a loved one caught up with the wrong crowd and going through a difficult time?
If so, you'll want to listen in to today's show. My guest, Mrs. Paige Squirrell, Life coach, worship leader, and author, shares her firsthand experience about the power of worship in difficult times. When her son was going through a challenging time and had lost his way, Paige went through a year-long journey of turning her thoughts to the Lord in prayer and praise every 10 minutes. What an incredible experience!
That season taught her so much about trusting the Lord and how powerful it is to simply focus her attention on Him. We receive God's peace and comfort by praising Him during troubling times, even when things don't go our way.
Tune in today, listen to Paige's story, and you'll feel hopeful and encouraged. Worship is key to transforming hearts during hard times. So, if you're ever feeling overwhelmed and need guidance, just take a moment to stop and praise the Lord. You might be surprised at the results!
Thanks for tuning in to this episode. Join us next time for more inspiring stories of faith, hope, and discovering treasures in difficult times! If you enjoyed this episode, please leave a rating and review, and share it with your friends.
Have a wonderful and blessed day!
Listen on Spotify, Apple, or your favorite podcast platform
Connect with Mrs. Paige Squirrell
Website: https://www.paigesquirrell.com/
Website: https://kingdombreakthrough.org/
Facebook: https://www.facebook.com/paigesquirrellcoaching
Email: [email protected]
Resources from Paige Squirrell – Available on Amazon
The Greatest Gift: Unwrapping the Names of Jesus
Additional Resources from Hidden Treasures and Riches :
Available on Amazon: Thankful Everyday: A Gratitude Journal to Refresh Your Soul and Increase Your Joy
Available on Amazon: Weathering Storms: Finding Treasures in the Ruins