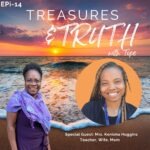 Click The Red Button To Unleash Your Hidden Potential
Have you ever felt overwhelmed by all of life's obstacles? Overcoming adversity can sometimes feel like an uphill battle.
Experiencing three heartbreaking miscarriages back-to-back can be exhausting. Our special guest on today's show, Mrs. Kenisha Huggins, found courage and resilience when her journey to parenthood was put on hold. After dreaming of expanding her family, she and her husband experienced not one but three heartbreaking miscarriages… "When we experienced three heartbreaking miscarriages back-to-back, I'll be honest – I was exhausted."
Though disheartened, she said, "One day, I opened up my Bible app, and you won't believe what the scripture of the day was… "To give you an expected end and hope in the future!"
Kenisha and her husband found hope in this scripture when it seemed like all hope was lost.  She understands how hard it is to go through the pain of miscarriage firsthand. That's why she created the "I Am Remembered" online community based on 1 Samuel 1, to support women who are trying to become mothers.
Tune in to hear Kenisha's journey from heartbreaking miscarriages to parenthood and the treasures she discovered along the way. Whether you're dealing with miscarriage or struggling to turn your dreams into reality, you'll be inspired to ride the detours of life, become resilient, and rebuild hope.
God plans for you… hope and a future of peace and joy!
Even if you feel like all hope is lost and there's no way forward… God still has plans for you – plans for a future of peace and joy!
Thank you for tuning in to this episode. Join us next time for more inspiring stories of faith, hope, and discovering treasures in hard places! If you enjoyed this episode, please leave a rating and review, and share it with your friends.
Have a wonderful and blessed day!
Listen on Spotify, Apple, or your favorite podcast platform
Connect with Mrs. Kenisha Huggins
Instagram: www.instagram.com/iamremembered_
Additional Resources from Hidden Treasures and Riches :
Available on Amazon: Thankful Everyday: A Gratitude Journal to Refresh Your Soul and Increase Your Joy
Available on Amazon: Weathering Storms: Finding Treasures in the Ruins