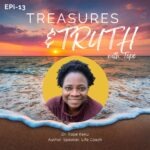 Click The Red Button To Unleash Your Hidden Potential
Do you ever feel like you're not enough? Like no matter how hard you try, you still don't measure up?
About 80% of women struggle with low self-esteem and value and worth. But take heart – it doesn't have to stay that way.
I was in the same dark place a few years ago, but with God's help, I found encouragement to overcome it. And I want to share what I learned… that God loves you unconditionally! No matter how flawed you feel or how much you messed up, He cherishes and adores you just the way you are.
Ready to discover creative ways God expresses his love for you every day?
Find out how to start believing in yourself – because with God on your side, you're enough… good enough, qualified enough, bright enough, and beautiful enough! Together we can conquer feelings of low self-worth and inadequacy with faith.
Listen in today and be inspired to find hope and comfort in God's endless love for you.
Thank you for tuning in to this episode. Join us next time for more inspiring stories of faith, hope, and discovering treasures in adversity!
If you enjoyed this episode, please leave a rating and review, and share it with your friends.
Have a wonderful and blessed day!
Listen on Spotify, Apple, or your favorite podcast platform
Connect with Dr. Tope Keku
Website: https://hiddentreasuresandriches.com/coaching/
Additional Resources from Hidden Treasures and Riches :
Available on Amazon: Thankful Everyday: A Gratitude Journal to Refresh Your Soul and Increase Your Joy
Available on Amazon: Weathering Storms: Finding Treasures in the Ruins