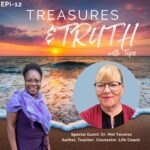 Do you feel tired of struggling through life's tumultuous storms? Have you encountered challenges that leave you feeling discouraged and lost? You are not alone.
Click The Red Button To Unleash Your Hidden Potential
We've all weathered our fair share of adversity, and sometimes it can feel too much to bear. But there is a way to rise above it – and that's by knowing who you are in God.
That's why I'm excited to have Award-winning Author, Teacher, Counselor, and Life Coach, Dr. Mel Tavares on the show today. With over 40 years of experience, Dr. Mel has endured a fair share of adversity and storms – from cancer diagnosis and homelessness to divorce and single parenting. But it was the Word of God that brought her comfort.
Now Dr. Mel is passionate about helping you reach your next step so you can live a fulfilling life. So tune in today!
You'll get powerful insight on how to survive adversity and the toughest storms.
You'll learn how you can overcome your storms too! Don't miss this inspiring story of resilience and renewal!
Thank you for tuning in to today's episode. Join us next time for more inspiring stories of overcoming adversity and resilience from Professional Christian Women who love God.
If you enjoyed this episode, please leave a rating and review, and share it with your friends.
Have a wonderful and blessed day!
Listen on Spotify, Apple, or your favorite podcast platform
Connect with Dr. Mel Tavares
Website: https:// https://www.drmeltavares.com/
E-mail: [email protected]
Dr. Mel Tavares' Books on Amazon
Additional Resources from Hidden Treasures and Riches :
Available on Amazon: Thankful Everyday: A Gratitude Journal to Refresh Your Soul and Increase Your Joy
Available on Amazon: Weathering Storms: Finding Treasures in the Ruins