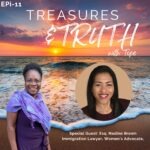 Are you considering starting your own business but feeling uncertain and scared?
Click The Red Button To Unleash Your Hidden Potential
Today's episode features Ms. Nadine Brown, a practicing immigration and family lawyer for over 25 years. She shares how her faith and trust in God's plans led her to own a business despite challenges and uncertainties.
Tune in to learn more about her background and experiences and how she decided to start her own business.
You'll hear about her fears and doubts, such as not knowing how the next bills will be paid or where her groceries will come from.
She shares how leaning on her faith and trusting God got her through uncertain times.
Nadine offers helpful tips such as setting clear boundaries, letting go of perfectionism, and prioritizing self-care for anyone thinking about starting their own business.
Thank you for tuning in to this episode. Join us next time for more inspiring stories of hope and tips on faith and resilience.
If you enjoyed this episode, please leave a rating and review, and share it with your friends.
Have a blessed day!
Listen on Spotify, Apple, or your favorite podcast platform
Connect with ESQ Nadine Brown
Website: https://nadinebrownpa.com      
 E-mail: [email protected]
LinkedIn: https://www.linkedin.com/in/nadine-brown-4945637/
Additional Resources from Hidden Treasures and Riches :
Available on Amazon: Thankful Everyday: A Gratitude Journal to Refresh Your Soul and Increase Your Joy
Available on Amazon: Weathering Storms: Finding Treasures in the Ruins