Day 22: Read Luke Chapter 22
Mom, Mom! Wake up! The house is on fire.
I woke up to the sound of my daughter's urgent call. At first, I thought I was dreaming, but the house was really on fire. When I stepped out of my room into the hallway, it was peach black and smelled of smoke. I could hardly breathe as I made it down the steps. Once outside, I saw flames shooting up from the roof. I had many thoughts and questions. Why? Have we not suffered enough? When will all this suffering end?
Have you ever struggled with a challenging situation you'd rather not deal with?
You are not alone. Jesus faced a difficult choice when he was nearing the end of his mission on earth. He went to mount olives with some of his disciples to pray. He stepped off to the side alone and prayed. His heart was heavy because of what was ahead of him. He said, "Father, if you are willing, take this cup from me, yet not my will but yours be done." Luke 22:42.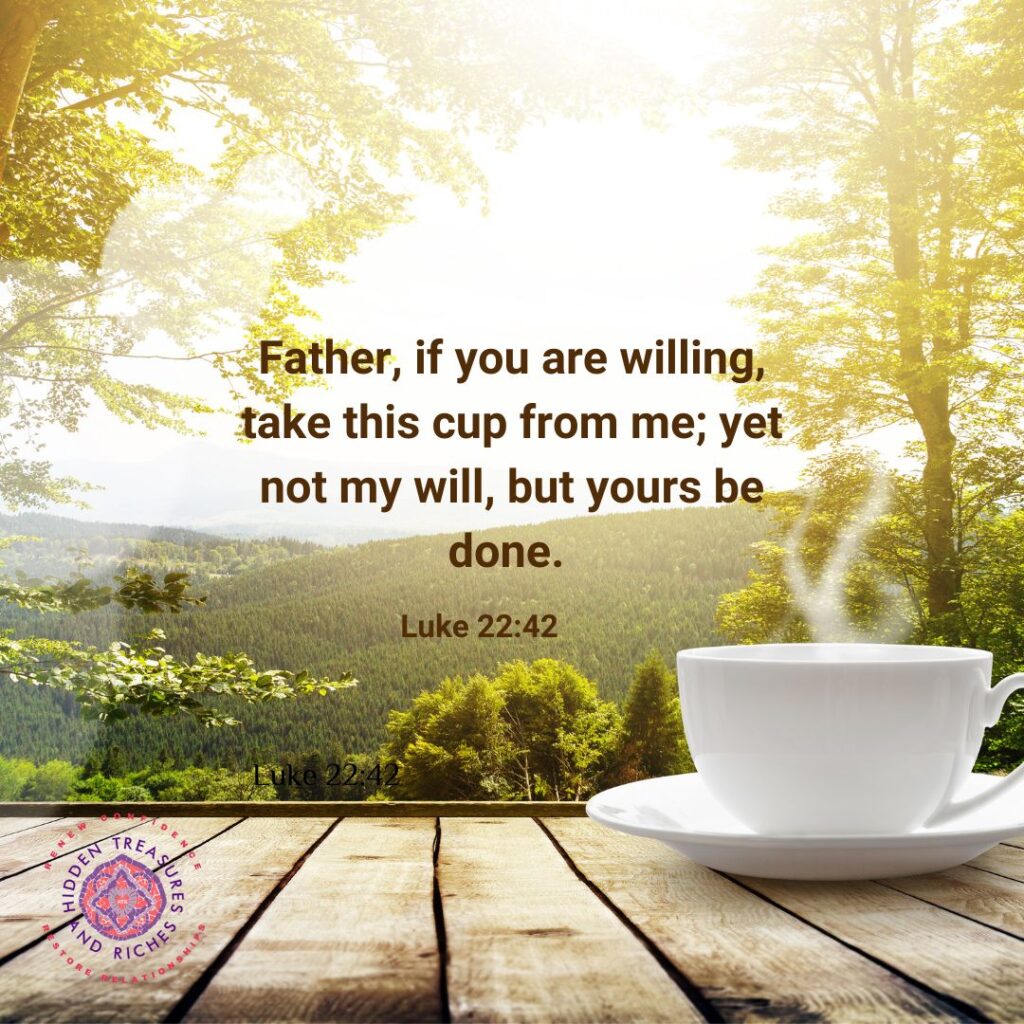 Jesus' sole purpose for coming to the world was to redeem mankind. The cup that Jesus is referring to is the plan of redemption. God's plan to save humanity meant Jesus would endure suffering, persecution, betrayal, abandonment, ridicule, disrespect, and death on the cross. 
Yet Jesus was honest with God about what he wanted and open to God's will. In response, an angel appeared from heaven and strengthened him. 
Are you, too, facing a perplexing situation and wondering what to do? Jesus shows us that we can pray and honestly share our concerns and heart desires with him. Like Jesus, we can surrender our will and allow God to have complete control of the situation. When Jesus was in anguish and prayed, God sent an angel to encourage him. He'll enable and empower you too, to face your challenging circumstances with courage.
We don't have to go it alone or stay silent in our afflictions. God wants us to call on him in our times of trouble (Psalm 50:15). God may not take away our suffering, but he will strengthen us to persevere. You and I can follow Jesus' example and have persistent faith in adversity. God's help, prayer, and unwavering faith have helped me weather many storms over the years.
Jesus willingly drank the cup of suffering and laid down his life out of love for you and me (Hebrews 5:7-9, John 3:16, Romans 5:8).
How does it encourage you to know Jesus understands your sufferings? What do you need to pray for today?
Prayer: Heavenly Father, help me to persevere in prayer in adversity. Help me to have the persistent faith to look for what You alone can do. Grant me the power to do your will and know that I am victorious because of Jesus' sacrifice. Amen
"Father, if you are willing, take this cup from me; yet not my will, but yours be done." Luke 22:42
Day 22: This post is part of the Come Away with Jesus Christmas Challenge.
Have you always been running? Running to please everyone and hoping for a change without the discomfort of letting go? Let me show you how to soar and start living your dreams. Let's talk. Book your FREE Call today.
You may also be interested in: Lost and Found, Choosing the Life-giving Path of Abundant Joy