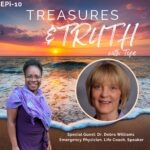 Are you considering whether to leave or stay in your high-pressure career?
As an ER doctor, my guest was no stranger to high-stress situations and long hours. But eventually, the job's demands took a toll on her physical and emotional well-being.
Click The Red Button To Unleash Your Hidden Potential
In this episode of the Treasures & Truth podcast, I sit down with Dr. Deb Williams, a former emergency room physician who left medicine to become a certified personal and professional coach. She practiced emergency medicine for 20 years and served as the director for 15 years. She shares her journey and the steps she took to find a new path.
Through her coaching practice, Dr. Deb now helps others who may be experiencing similar feelings of burnout to find a sense of balance and fulfillment in their own lives. She provides valuable insights and practical tips for managing stress and maintaining self-care in high-pressure careers.
Tune in to hear Dr. Deb William's powerful story. You'll gain a deeper understanding of taking care of yourself personally and professionally.
If you are struggling with burnout and debating whether to stay or leave your high-pressure career, you won't want to miss this episode.
Listen on Spotify, Apple, or your favorite podcast platform
Connect with Dr. Deb Williams
Website: https://drdebleads.com/
LinkedIn: https://www.linkedin.com/in/debrawilliamsmd
Resources from Hidden Treasures and Riches to help you get through hard times:
Available on Amazon: Thankful Everyday: A Gratitude Journal to Refresh Your Soul and Increase Your Joy
Available on Amazon: Weathering Storms: Finding Treasures in the Ruins