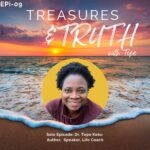 Are you looking for more joy in your life? 
In this solo episode, you'll hear about the power of gratitude. When you feel discouraged, the last thing on your mind is praising God. Right? I get it. But I tell you, giving thanks is exactly what you need. Throughout my life, I have experienced many trials, and what you're about to hear is what gets me through every one of them.
Click The Red Button To Unleash Your Hidden Potential
Life's difficulties and challenges provide us with opportunities to choose between self-pity and gratitude. Even when you are disappointed and feel like giving up, you can still look for ways to be thankful. Gratitude is the gateway to joy. It can change your perspective and your life in profound ways.
Listen in to learn how to boost your joy even when you feel discouraged with a thankful heart.
Listen on Spotify, Apple, or your favorite podcast platform
Free Resource
Free Offer: I have a Free Gift on gratitude that I created for you. Simply Download here
Resources from Hidden Treasures and Riches to help you get through hard times:
Available on Amazon: Thankful Everyday: A Gratitude Journal to Refresh Your Soul and Increase Your Joy
Available on Amazon: Weathering Storms: Finding Treasures in the Ruins