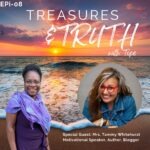 Most people experience unforgiveness at some point in their lives, but we don't talk about it much, especially Christians. Do you live a life controlled by bitterness and unforgiveness? Are they causing your bones to ache and your heart to ache? Tune in to Tammy's story to find out how she came full circle to forgive the past for good.
Mrs. Tammy Whitehurst is funny and down to earth. Her goal is to inspire her audiences to live life a little more fully. She is an author and blogger and has been a full-time motivational speaker for over a decade. Many publications have featured her work, including Lifeway magazines, Woman's World, and Christianity Today. She co-directs the Christian Communicator Conference. To those who know her best, she's simply a wife, mom, and former middle school teacher.
Click The Red Button To Unleash Your Hidden Potential
Want to know the secret of forgiving and living life more fully? Take a seat and allow Tammy's story, wit and wisdom to encourage you, to get you back up, so you can look through grace-filled glasses again.
Listen in to discover hope and encouragement to overcome unforgiveness and be free.
Listen on Spotify, Apple, or your favorite podcast platform
Connect with Tammy or Invite her to speak:
Website: www.TammyWhitehurst.com
Facebook: https://www.facebook.com/TammyWhitehurstSpeaker/ 
YouTube: https://www.youtube.com/user/Joy4theJourney
Email: [email protected]
Resources from Tammy
Free Offers: Sign up for Happy Mail on Tammy's website, -a once a month email, and also receive a FREE 30- Day online devotional.
You can purchase the devotional book, High Heels and Hallelujahs, directly from Tammy or pick up a copy at one of her events. She speaks somewhere every weekend.
Resources from Hidden Treasures and Riches to help you get through hard times:
Weathering Storms: Finding Treasures in the Ruins
Thankful Everyday: A Gratitude Journal to Refresh Your Soul and Increase Your Joy