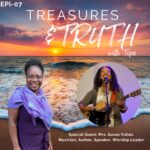 Do you struggle with overwhelming fear? It's a big one that so many of us grapple with, but we don't talk much about it. Susan's biggest battle was anxiety and overwhelming fear. If you struggle with anxiety or just any kind of tormenting fears, tune in. You'll be inspired by Susan's powerful story of faith and gain a new perspective on overcoming your fears.
Mrs. Susan Valles is a musician, songwriter, author, recording artist, and woman of deep faith. She didn't start playing the guitar until she was 28 years old. As a worship leader and prophetic voice, Susan helps worshippers find healing and hope through worship while experiencing God's love. During her free time, she enjoys kayaking and paddle boarding.
Click The Red Button To Unleash Your Hidden Potential
Listen in to find hope and encouragement to overcome your fears and step into freedom.
Listen on Spotify, Apple, or your favorite podcast platform
Connect with Susan or invite her to speak:
Website: www.susanvalles.com
Facebook: https://www.facebook.com/SusanVallesMinistries
Email: [email protected]
Resources: Susan's Books
Resources from Hidden Treasures and Riches to help you get through hard times:
Weathering Storms: Finding Treasures in the Ruins
Thankful Everyday: A Gratitude Journal to Refresh Your Soul and Increase Your Joy