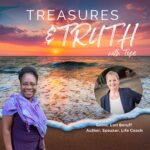 In this episode, Lori shares the treasures that helped her weather an unexpected storm. One night, she heard a knock at the door, and it was a police officer there to arrest her 18-year-old son. Lori wasn't expecting that. She knew her son had been making bad decisions, but to have him handcuffed, and taken away to jail, was a total surprise. How do you sleep like a baby after your son's just been arrested and could face 8–14 years in prison?
Lori Boruff is passionate about helping women share their message of hope. She is an author, life coach, and co-director of Christian communicators, a national speaker training organization. She enjoys living on the lake in the Midwest with her husband, children, and grandchildren.
Click The Red Button To Unleash Your Hidden Potential
Join us as we explore some of the treasures Lori found in that season:
Establish a relationship with God before the storm.
When we need him, God is always there to help us get through any trials.
God knows your heart, aches, and pains. Ask for his help and rest between his shoulders and on his promises.
Grief and loss are often at the root of addiction, and other issues young people experience. As parents, we often miss that.
God can turn things around and use your troubles to birth to your purpose and bring hope to others.
Lori encourages us to remember there is always hope in the ruins. When the storm is raging, you need an anchor, and it begins with an intimate relationship with God.
Scripture reference: Deuteronomy 33:12 Let the beloved of the Lord rest secure in him, for he shields him all day long, and the one the Lord loves rests between his shoulders.
You can find Lori's book: Hope in the Ruins – A Rescue and Recovery Plan for Hearts in Crisis on Amazon https://amzn.to/2EGZTXG
Lori is a transformational speaker. To invite her to speak to your group, you can connect with her at: https://www.loriboruff.com/
You can also subscribe to her blog to receive a FREE Resource: I hear you, God, but I'm scared https://www.loriboruff.com/
To learn more about her son Rusty's story: https://www.oneeighty.org/
Recommended Resources
Weathering Storms: Finding Treasures in the Ruins https://amzn.to/2NHiHHH
Thankful Every Day: A Gratitude Journal to Refresh Your Soul and Increase Your Joy https://amzn.to/2S67O8o