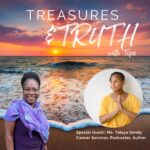 Cancer doesn't always mean death. If you or a loved one is battling a cancer diagnosis and you're searching for peace, listen and let Talaya Dendy's story encourage you. Talaya considered herself healthy, never spent a night in the hospital, and never broken a bone. So, it really took her by surprise when the doctor told her she had cancer. Of course, she was devastated and had many questions.
Talaya is a thriving cancer survivor of eleven years and dedicated her career to guiding, supporting, empowering, and advocating for people diagnosed with cancer. She is the founder and CEO of On the Other Side, a program that helps to support cancer patients. She hosts The Navigating Cancer Together podcast and is a contributing author to a #1 bestselling book, I Survived Cancer. Here is how I did it.
Click The Red Button To Unleash Your Hidden Potential
You don't want to miss Talaya's inspiring story and the physical, spiritual, and emotional lessons that changed her views during her cancer journey.
Excerpts from our conversation
[00:07:15] Tope: Yes. I love it when God guides us that way. Um, so, as we start to talk about God. What part did faith play in your cancer journey?
[00:07:26] Talaya: Prior to cancer. I was a very faithful person. I always believed in God. And I knew that I was still living, and God wakes me up every day. So, I knew that he is and was a part of my life.
It only made my faith grow much stronger. And I say that because when you are diagnosed with cancer, there is so much uncertainty. You don't know what's gonna work. You don't know sometimes what you need from one minute to the next. You don't know how you're gonna feel sometimes.
[00:08:00] And so you have to have faith. You have to have faith that you're gonna get through that minute. That second, that hour, you have to have faith that God is with you and guiding you through this and that he has the final say. That's it. It just made my faith that much stronger. And I knew that I wasn't alone because he had always been there.
[00:09:00] Tope: And what helped you during those times as you went through the treatment?
[00:09:06] Talaya: Yeah. So, one thing that I did was a lot of research about my treatment options, really look at what kind of quality of life that I wanted. So, by asking myself that question, that allowed me to really tune in and delve into my options.
Talaya's cancer diagnosis gave her an opportunity to examine her life, really evaluate it, and discover her purpose.
A cancer diagnosis is not the end. God will lead you if you listen, and he has the final say! You, too, can thrive and have peace in the midst of any life-threatening diagnosis.
You can also listen on Apple Podcast, Spotify, or your favorite Podcast platform. Please subscribe, review, and rate the podcast. Thanks for your support.
Connect with Talaya or invite her to speak:
Website: https://www.ontheotherside.life/
Podcast: https://anchor.fm/navigatingcancertogether
Social: https://linktr.ee/OntheOtherSideCancerDoula
Amazon: I Survived Cancer and Here is How I Did it
Resources to help you get through tough times:
Weathering Storms: Finding Treasures in the Ruins https://amzn.to/2NHiHHH
Thankful Every Day: A Gratitude Journal to Refresh Your Soul and Increase Your Joy https://amzn.to/2S67O8o