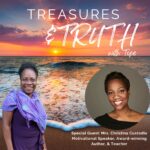 Listen on Spotify or your favorite podcast platform
Why do Bad Things Happen to Good People? Featuring Christina Custodio
Click The Red Button To Unleash Your Hidden Potential
Why do bad things happen to good people? This is the topic of our fascinating conversation today with Mrs. Christina Custodio. When her son, Isaiah, was born, she always felt he would die young. Her worst fears came true when a terrible headache and brain bleed turned into surgery to save his life. Christina pleaded with God to save her son's life, "God, will you please change your mind?"
Christina holds a degree in psychology and is also a schoolteacher, award-winning author, photographer, and motivational speaker. She is a wife of 23 years and a mother to three young adult children. Her son's near-death experience changed her life and served as a launchpad for her ministry. She helps others find joy, faith, and hope, regardless of their circumstances.
Listen as Christina describes how:
Dependence on God,
The power of prayer,
A determination to glorify God
…can help you when you face struggles and unexpected bad things in your life.
You don't want to miss this inspiring episode.
You can find Christina's book: When God Changed His Mind on Amazon https://amzn.to/3pU1iPD
Follow Christina or invite her to speak:
http://www.christinacustodio.com/
Facebook: https://www.facebook.com/christinacustodiospeaks/
Instagram https://www.instagram.com/christina.custodio/
Resources to help you get through hard times:
Weathering Storms: Finding Treasures in the Ruins https://amzn.to/2NHiHHH
Thankful Every Day: A Gratitude Journal to Refresh Your Soul and Increase Your Joy https://amzn.to/2S67O8o