Day 10: Read Luke Chapter 10
Have you ever hosted a gathering in your home and felt stressed by the details of all the preparation you still had left to complete?
Jesus made friends with ordinary everyday folks like you and me. One day while going to Jerusalem, a woman named Martha invited him to stay at her house. It's safe to assume that Martha was a woman of means. She'd heard so much about Jesus' healing and deliverance miracles. 
Martha wanted to give Jesus her best, so she spent hours preparing an elegant feast. She wanted everything to be flawless… her expectations were a bit unrealistic.
Martha's sister, Mary, was right there in the kitchen with her all day. While waiting for the meal, Jesus decided to teach those present. But when she heard Jesus teaching the others, Mary stepped away from the kitchen to sit and listen to his teaching.
When Martha turned around to ask Mary to put the chicken wings in the oven :), she saw her sister sitting with the others, listening to Jesus.
One look and all the raw emotions Martha had tried to suppress bubbled up. She felt resentful that her sister wasn't helpful, so she interrupted Jesus and asked him to command Mary to go and help her in the kitchen.
Does this story about Martha and Mary hit home for you? It does for me. Years ago, whenever I hosted family gatherings or events in my house, I spent an enormous amount of time going over all the details and arrangements. 
Before the event, I would picture the guest list, menu, finger foods, and games and prepare the house. In my mind, a simple meal was not enough. Like Martha, I had to have an elaborate menu… at times, a seven or eight-course meal. In the end, while everyone had a good time, I always felt physically and emotionally drained.
Choosing the One Thing will Change Your Perspective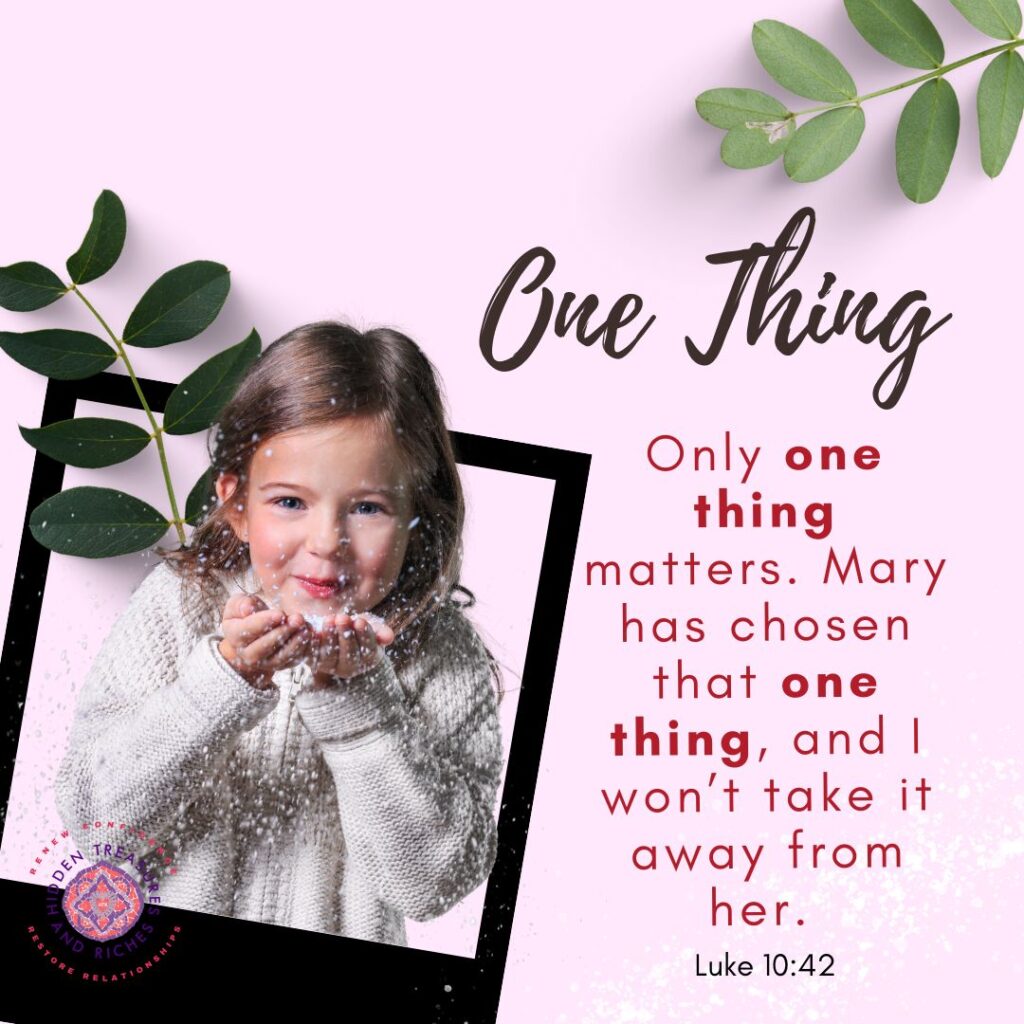 Five years ago, I had an aha moment while preparing to teach this passage (Luke 10:38-42) in a women's small group at church. It totally changed my perspective about what it means to be a good host. 
Martha's concerns about all the details left her feeling depleted, but she chose not to stop and instead pushed through. Mary was tired and needed some downtime. So, Jesus' teaching was exactly what she needed at that moment. She stopped and went to sit at his feet. 
Though I still host family gatherings now, thanks to Mary, I am wiser. I spend more time in prayer and worship before the event to refresh my soul and feel the Father's love. And this has made a big difference in my attitude and stress level. I now ask for help with the preparations and don't try to do it all alone. I share my needs, and people volunteer what they can help with. 
The reality is there is a time for everything, a time to be still, and a time to do. Only One thing matters and Mary chose that One thing. 
Jesus is calling you and me today to choose the One thing that matters the most.
You can have a stress-free holiday if you commit to spending time alone with him.
Will you bring your cares and concerns and let him fill your heart with hope, love, and peace while preparing for your family gathering over the holidays?
Prayer
Heavenly Father, Thank you for your grace and steadfast love. You are the One thing that can truly satisfy my soul. Forgive me when I'm preoccupied with all the details of my to-dos. Please help me to choose you above all else. Thank you for showing me a better way of living a stress-free life and for renewing your Spirit in me. In Jesus' Name, Amen.
Only one thing matters. Mary has chosen that one thing, and I won't take it away from her. Luke 10:42
Day 10: This post is part of the Come Away with Jesus Christmas Challenge.
Have you always been running? Running to please everyone and hoping for a change without the discomfort of letting go? Let me show you how to soar and start living your dreams. Let's talk. Book your FREE Call today.
You may also be interested in: You may also like Come Away with Jesus: Hope in Waiting