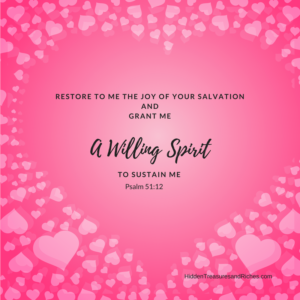 Do you have a healthy relationship with exercise?
I like to exercise regularly, but lately, it has been a struggle. A few days ago, as I prayed about this problem, I opened my Bible to Psalm 51. I read the verses aloud and the last part of verse 12 stood out to me, grant me a willing spirit to sustain me. I reflected on the meaning of this verse for some time.
I did not have to wait long before I had an opportunity to apply verse 12.
The night before I had a conversation with myself about going for a walk first thing in the morning. After my prayer time, I got dressed to go for a walk. Then I heard a sound like it was raining. Immediately, I felt discouraged. I was looking forward to getting back on track with my exercise routine.
Then a gentle whisper in my spirit said, "grant me a willing spirit to sustain me."
I repeated the phrase out loud, almost like a prayer.
I decided that I would still go and exercise. To my surprise, when I got outside it was not raining. It rained the previous day, but this morning was a nice day to walk as it was nice and cool.
This was a trick.
The enemy was playing games with my mind. If I gave in to the thought that it was raining then I would not go for my exercise. Then he would accuse me with all kinds of lies. Now I realized why I've been struggling in this area.
All along, I had bought into the subtle lies of the enemy. Oh, it is raining or it is too hot or you don't have time for exercise today. I tried many times to get back on track on my own with little success. I finally got tired of listening to his lies and took the problem to God in prayer.
I don't know why I waited so long to pray about it. I had so much energy and joy that day after walking. The Lord graciously spoke to my heart through Psalm 51:12 and gave me a willing spirit to pursue my goal.
We don't need to do life alone and we don't need to allow the enemy to overwhelm us with lies…whatever issues, we face, the Lord desires to help us.  He is only a prayer away.
Lord, forgive me for waiting so long to ask for your help. I am grateful for the joy of your salvation and your desire to give me a willing spirit to accomplish your purpose for my life. Help me to come to you and ask for what I need. In Jesus Name, Amen.