Day 11: Read Luke Chapter 11
How do you pray? Do you find it difficult? 
Knowing what and how to pray can be challenging for many people.
Jesus often withdrew to pray alone. The disciples saw Jesus' practice of private commune with the Father. Then one day, they asked him to teach them to pray. Jesus taught them the model prayer, also known as the Lord's prayer (Luke 11:1-5).
If you are a Christian, you know this prayer.
You've probably recited it many times.
Before diving into the Lord's prayer, why is prayer essential for a believer? 
Prayer has the power to change the way you and I live. It's important because it deepens our relationship and dependence on God. It strengthens our faith and ability to trust him.
It's more than just enough to observe Jesus. You and I are encouraged to follow and practice what Jesus is doing.
Do you want to learn how to boost your prayer life and apply the Lord's prayer in your life? 
A New Way to Use the Lord's Prayer to Develop Your Relationship with God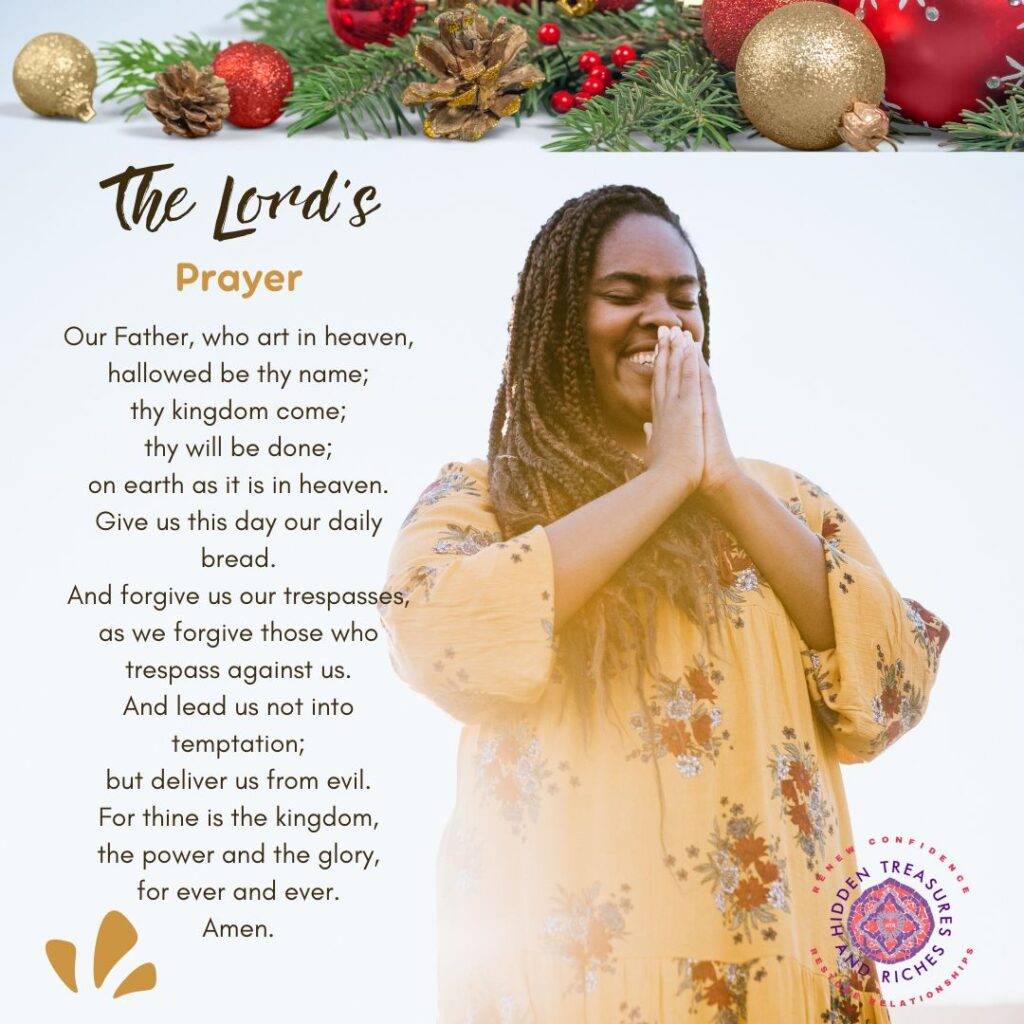 When I pray the Lord's prayer, I like to use it as an outline for my own prayer. Here's how it goes:
Our Father, who art in heaven, hallowed be thy name…
I reflect on who God is to me. I use his name, attributes, and experience with him to praise him from my heart. Over the years, when I read the scriptures, I jot down the Names and characteristics of God in a notebook.
Prayer: O Lord, you are Almighty, Wonderful Counselor, Everlasting Father, and Prince of Peace. You are the Lover of my soul and my Father. I give you all the glory and honor due to your name. You alone are worthy of all my praise. Abba, I love you. Amen.
Related scriptures: Isaiah 9:6, Psalm 96:8, Psalm 29, Romans 8:15, Isaiah 64:8, Psalm 18:3.
Thy kingdom come; thy will be done on earth as it is in heaven…
Prayer: Father, you know all things. Let your kingdom have first place in my heart. I surrender my life, will, thoughts, emotions, ideas, and resourcefulness to you. Please shape them according to your will. You have my permission to erase anything that is not aligned with your desire from my life. Also, help me to discern opportunities that you bring my way and to act according to your purpose. Thank you for making me sensitive to your Spirit today. Amen. 
Related Scripture: Colossians 1:9-10, 1 Thessalonians 5:18, Hebrews 13:20-21
Give us this day our daily bread…
Prayer: Heavenly Father, you own the cattle on a thousand hills and generously provide all my family's needs. Thank you for meeting our needs… physical, spiritual, emotional, relational, and financial needs. Thank you for the manna that I received from your word today. I now present the needs of my family and friends. Guide me, Lord, and show me how to pray for each need. Bless my loved ones, family, and friends, and meet each person at the point of their needs. For those who are sick, thank you for healing them. Some don't know you. Please draw their hearts to you. For those who need jobs, please open the right doors and connect them with destiny helpers. (I usually spend more time here praying for specific individual needs). Thank you for listening to my prayer, and thanks in advance for the answers. In Jesus' Name Amen.  
Related Scriptures: 2 Corinthians 9:10, Psalm 50:10-11
And forgive us our trespasses, as we forgive those who trespass against us…
Prayer: Lord, search me and know my heart. Reveal whatever is offensive to you. I repent of sins I committed, knowing or unknowingly, and ask your forgiveness. I also receive your forgiveness. For anyone who crossed me, I release the offense to you. I forgive them, and I ask you to forgive them as well. Keep my heart pure, Lord. Constantly guide me and renew your Spirit within me. Thank you for your unfailing love and great mercy. Amen.
Related Scriptures: Psalm 139:23-24, Psalm 51:1-2, 10-12, Psalm 103:10-12, Psalm 66:18, Hosea 14:2
And lead us not into temptation…
This one is a biggie. You and I only need to look around. Temptations are everywhere, from social media to a variety of entertainment. There is no shortage of daily distractions.
Prayer: Father, you know me and my weaknesses. Please prompt me in the Spirit to be aware of the enemy's traps. He goes around roaring like a lion looking for whom to destroy. Help me and my family and friends not to fall for his tricks. Keep us close to you, Lord. I bless you. Amen.
Related Scriptures: Proverbs 6:28, 1 Corinthians 10:13, James 1:2-3, 13, 1 Peter 5:8
But deliver us from evil…
We are living in some chaotic times. You only need to listen to the news or watch the TV and hear of the pervasive evil in our society. Lord, you are my protector. I plead the blood of Jesus and pray for a hedge of protection over my family. Thank you for sending your angels to watch over our going out and coming in daily. Thank you for helping me to put on your full armor and stand even under challenging circumstances. I praise you. Amen 
Related Scriptures: Psalm 91:1-2, Ephesians 6:13
For thine is the kingdom, the power, and the glory, for ever and ever.
Amen…
Bless this day, Lord. Thank you, Father, for this opportunity to come into your presence. I love you and praise you for your faithfulness and unfailing love. You alone are worthy of all glory and honor. In Jesus' Name. Amen.  
Hallelujah!
Related Scriptures: 1 Chronicles 29:11, Revelation 19:1
This is one creative way to use the Lord's prayer as the foundation for your own prayer. You can feel free to adopt this pattern of praying. Remember, prayer is communicating with God from your heart.
God loves to hear from his children. He wants a loving relationship with you, not religion or legalism. So, maybe life is going well for you right now, or perhaps you're looking to go deeper in your relationship with God or struggling in some areas of your life. God wants you to come as you are and share your heart with him. 
Whatever the situation, you can use the Lord's prayer as your guide in communicating with your heavenly Father. He wants to relate with you as a loving Father to his beloved child.
How do you use the Lord's prayer? What part of the Lord's prayer stands out to you the most? And why? Share in the comments.
Day 10: This post is part of the Come Away with Jesus Christmas Challenge.
Have you always been running? Running to please everyone and hoping for a change without the discomfort of letting go? Let me show you how to soar and start living your dreams. Let's talk. Book your FREE Call today.
You may also be interested in: Supplication and the Power of Prayer