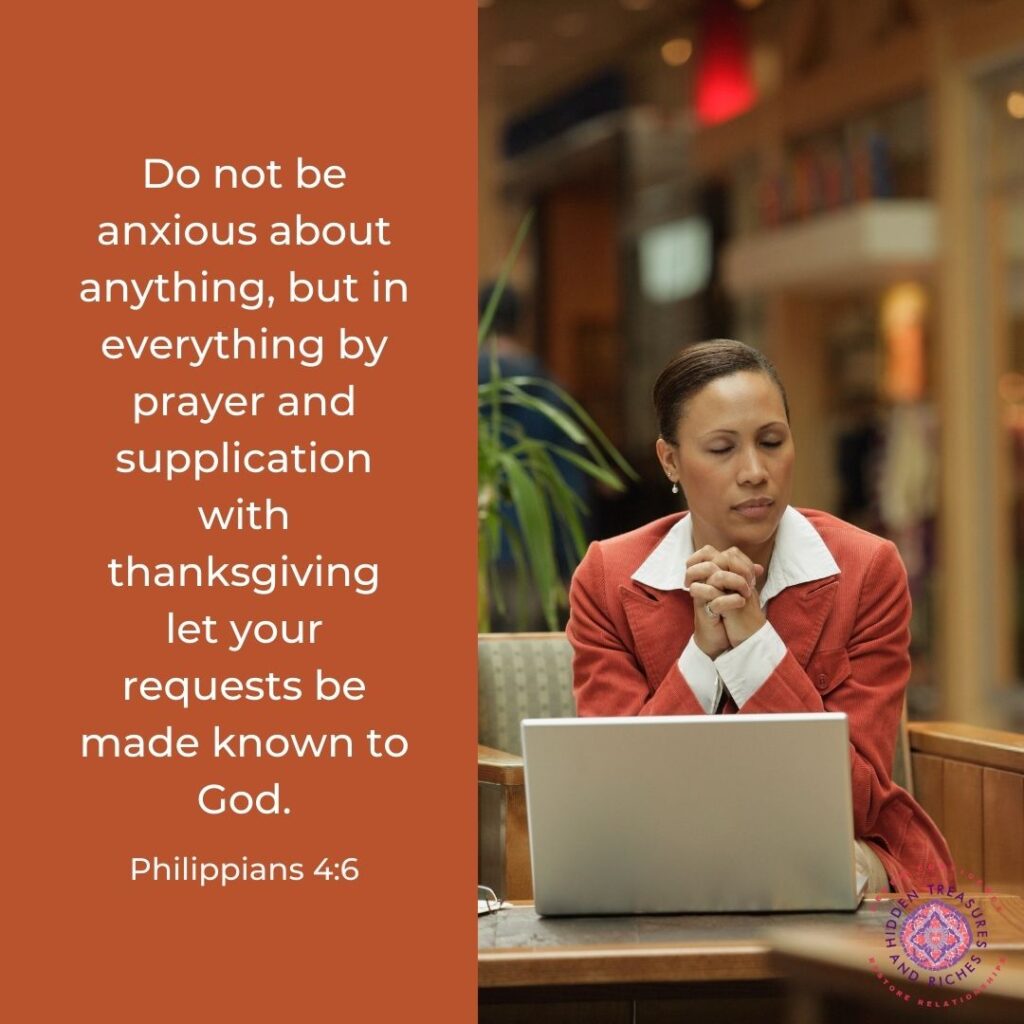 Have you ever read a scripture verse many times and suddenly found out that you were missing something?
In today's post, I'll address a question from a reader who asks,
"I've read Philippians 4:6 many times. It occurred to me that I've always glossed over the word supplication and focused more on the prayer of thanksgiving part. What does supplication mean in a biblical sense? So, how is supplication different from just praying?
This is an excellent question that we will unpack today.
Philippians 4:6 says, "do not be anxious about anything, but in everything by prayer and supplication with thanksgiving let your requests be made known to God."
What is Prayer?
Before we look into supplication, let do answer this question, what is prayer? Remember, prayer is simply communicating with God. It's about a relationship between a Father and his child. Prayer is naturally speaking to God and sharing what's on your heart with Him.
Types of Prayer
According to Phil 4:6 and 1 Tim 2:1, there are different types of prayer. The four basic types of prayer are prayers of adoration, contrition and repentance, thanksgiving, and supplication.
In this post, we'll focus on the prayer of supplication.
What is Supplication?
Supplication is an old English term that simply means request.
Think of supplication as a humble and earnest prayer request for help. Prayers of supplication are not quickie prayers. Instead, it requires coming to God with humility and desperation with your requests (petition) or interceding on behalf of someone else.
There are many examples of prayers of supplication in the Bible. These prayers can be further classified as petition and intercession.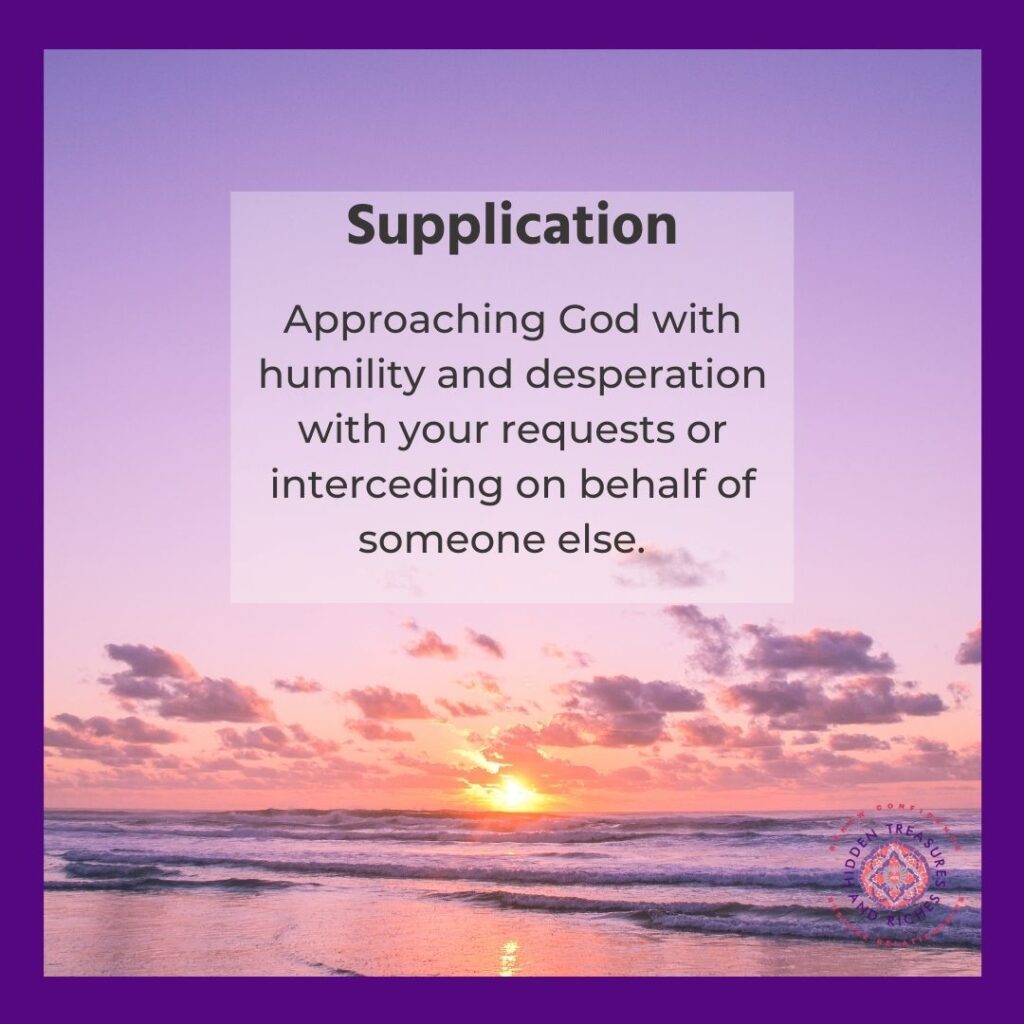 Prayer of Petition
Prayer of petition is bringing your own needs before God. Hanna's prayer asking for a son is an example of a prayer of petition.
Hannah was in deep anguish, crying bitterly as she prayed to the Lord. And she made this vow: "O Lord of Heaven's Armies, if you will look upon my sorrow and answer my prayer and give me a son, then I will give him back to you. He will be yours for his entire lifetime, and as a sign that he has been dedicated to the Lord, his hair will never be cut." 1 Samuel 10-11 NLT
Hezekiah's prayer is another example of a prayer of petition.
He was sick to the point of death and turned to the Lord in prayer.
Hezekiah turned his face to the wall and prayed to the Lord, "Remember, Lord, how I have walked before you faithfully and with wholehearted devotion and have done what is good in your eyes." And Hezekiah wept bitterly. 2 Kings 20: 2-3 NLT
Prayer of Intercession
The second type of supplication is intercession, and it is when we pray on behalf of others. My favorite prayer of intercession is found in John 17. Jesus prayed for his disciples and all those who will believe in His Name.
"My prayer is not for the world, but for those you have given me, because they belong to you. All who are mine belong to you, and you have given them to me, so they bring me glory. Now I am departing from the world; they are staying in this world, but I am coming to you. Holy Father, you have given me your name; now protect them by the power of your name so that they will be united just as we are." John 17:9-11
"Make them holy by your truth; teach them your word, which is truth. Just as you sent me into the world, I am sending them into the world. And I give myself as a holy sacrifice for them so they can be made holy by your truth. I am praying not only for these disciples but also for all who will ever believe in me through their message." John 17:17-20
Intercessory prayer is a powerful way to partner with God and bring the needs of others to Him. It is a blessing to cry out to God in prayer for the lost, sick, homeless, afflicted, or those who have one need or another. It is a privilege to pray for the Church of Christ, and we all need each other's prayers.
Personally, I am thankful for the team of intercessors who pray for me and this ministry regularly. I am grateful to be an intercessor for others.
I hope these examples help you grow in your prayer life as you learn to bring your petitions before God and also intercede for others.
God expects us to call on Him, and we can be sure that He will answer us. He asks us not to be anxious about anything, but in everything by prayer and supplication with thanksgiving bring our requests to Him.
Do you have a petition that you need to bring to the Lord? Though we have many needs, the greatest need is a right relationship with Jesus. Do you know Him? Call on Him today.
You may also be interested in Miracles and Prayer and Mountain Moving Prayers.