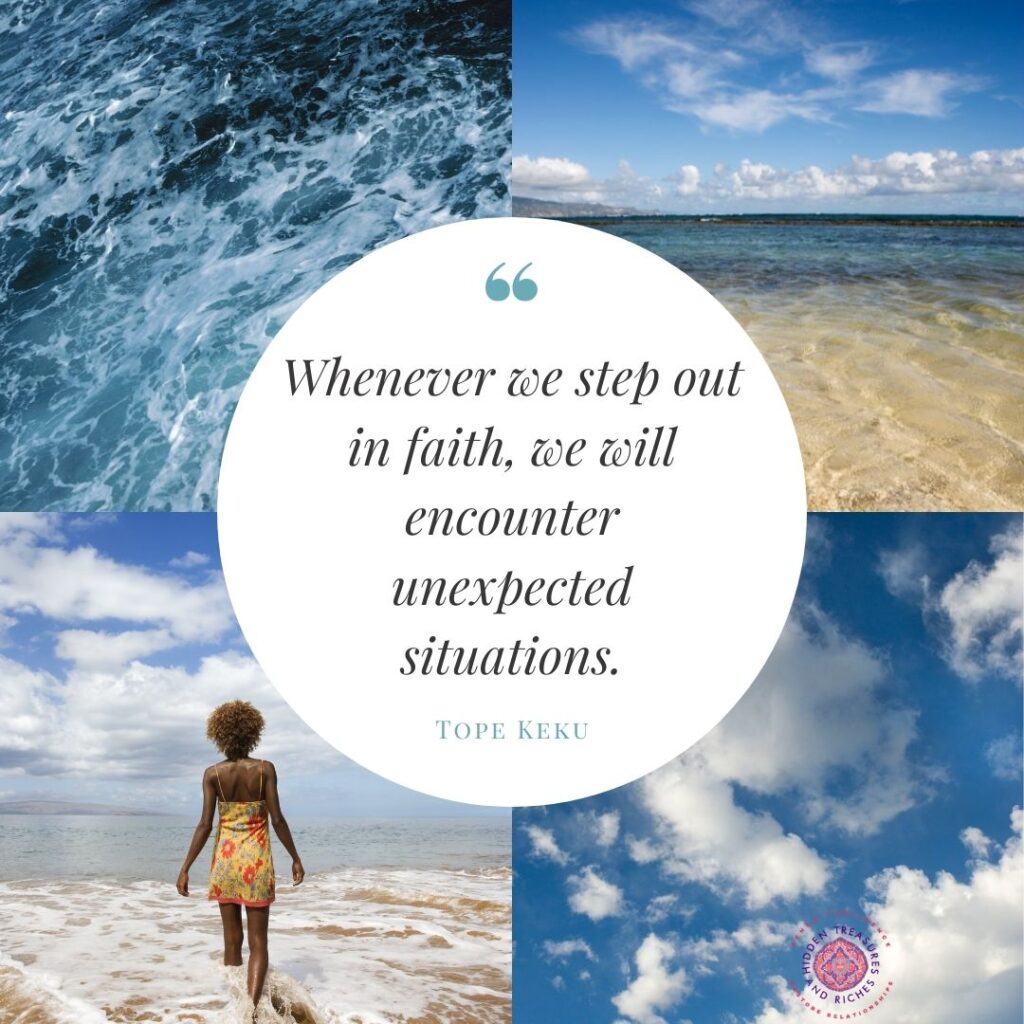 What is one thing you are struggling with that is outside of your comfort zone?
Take a moment and imagine what it would look like if you stepped out in faith. What do you see?
Maybe you've dreamed of starting a business, going back to school, or volunteering with the youth in your community? Perhaps, you are close to retirement and have some ideas, but you are unsure of the next steps.
Uncertainties can skew our view and keep us tethered to our comfort zone. Focusing on the obstacles and impossibilities can keep us from stepping out in faith and trusting God's plans for our lives.
But you and I have a choice to either look ahead and see only these difficulties or move forward in faith and dare to believe God for great things.
What is Faith?
Faith means being sure of the things we hope for and knowing that something is real even if we do not see it (Hebrews 11:1 NCV).
The Bible commends great men and women for exercising faith. They didn't let circumstances dictate their responses to whatever God called them to do. We, too, can follow their example and choose to live by faith.
Dare to Step out in Faith
These days, when you are going on a trip, you plug the address into the GPS on your phone and simply follow the directions.
Can you imagine being 75 years old and told to leave all you've ever known behind and set out for a new place?
"Go to the land that I will show you" (Genesis 12:1).
When God called Abraham, that was the instructions he received, and that was his GPS.
To leave his country and go to the land that I will show you (Genesis 12:1). That's it—no more instructions than that. There was no physical GPS.
God was calling Abraham to step out in faith and trust Him for direction. This meant Abraham had to listen closely to God's voice and live by faith, not by sight (2 Corinthians 5:7 NIV).
By faith, when called to go to a place he would later receive as his inheritance, obeyed and went, even though he did not know where he was going. By faith, he made his home in the promised land like a stranger in a foreign country.

Hebrews 11:8-9, NLT
Abraham trusted God, he expected great things, and God delivered on His promises to him.
Like Abraham, you and I can learn to embrace uncertainties and have the courage to step out in faith. We can trust that God is with us wherever we go.
What would it look like if you let go of whatever is holding you back and step out in faith?
In my own life, stepping out in faith has meant leaving my comfort zone, embracing the challenges as I follow God's direction for my life.
Whenever we step out in faith, we will encounter unexpected situations.
While writing my devotional "Weathering Storms: Finding Treasures in the Ruins", I came down with the flu and a hacking cough that lingered for eight weeks.
It felt like I was under attack, and I was tempted to give up. I tried to manage my health challenges while writing the book. In the final weeks of writing, I prayed daily and asked God to heal my cough and help me write.
Whenever we choose to focus on God's assignment, our faith will be tested. Let's be encouraged to trust God and walk by faith. Let's not focus on the uncertainties or the chaos we see.
When we step out in faith, God will see us through every challenge so that we can fulfill His purpose for our lives.
When I'm reluctant to step out in faith, I imagine what it would look like to do what I am afraid of doing. I ask God to help me move forward.
Friend, the only way forward is through!
Prayer
Lord, I desire to honor you. Help me not to look at obstacles and get discouraged but trust that you are with me. Help me step out in faith to fulfill the assignment you have for me. Keep my eyes on you, Lord, and not the chaos. Help me to rest in your goodness and love. Amen   
Reflection
What assignments will you trust God with as you step out in faith?
Need coaching support to discover your identity, renew your confidence, or improve your relationships? Book a FREE Discovery Call Here.
You may also be interested in Faith and Faith Journey