Day 13: Read Luke Chapter 13
Unable to get up alone, she lay on the bathroom floor, praying someone would come in and help her. 
At about the same time, a couple walks into the store. The wife told her husband she needed to use the bathroom. He pointed to one right beside the store entrance. But she replied, "I feel I'm supposed to go to the one in the back."
She opened the bathroom door and found a disabled woman lying on the floor. She fell while trying to get in the stall. 
Can you relate to this woman's story? Have life's problems weighed you down and left you flat on your back on the floor? Maybe you're dealing with chronic illness, debilitating pain, stress, anxiety, depression, unemployment, or any other troubles.
How can you and I flourish in our faith and not give up? 
You can Flourish in Your Faith When Life's Storms Linger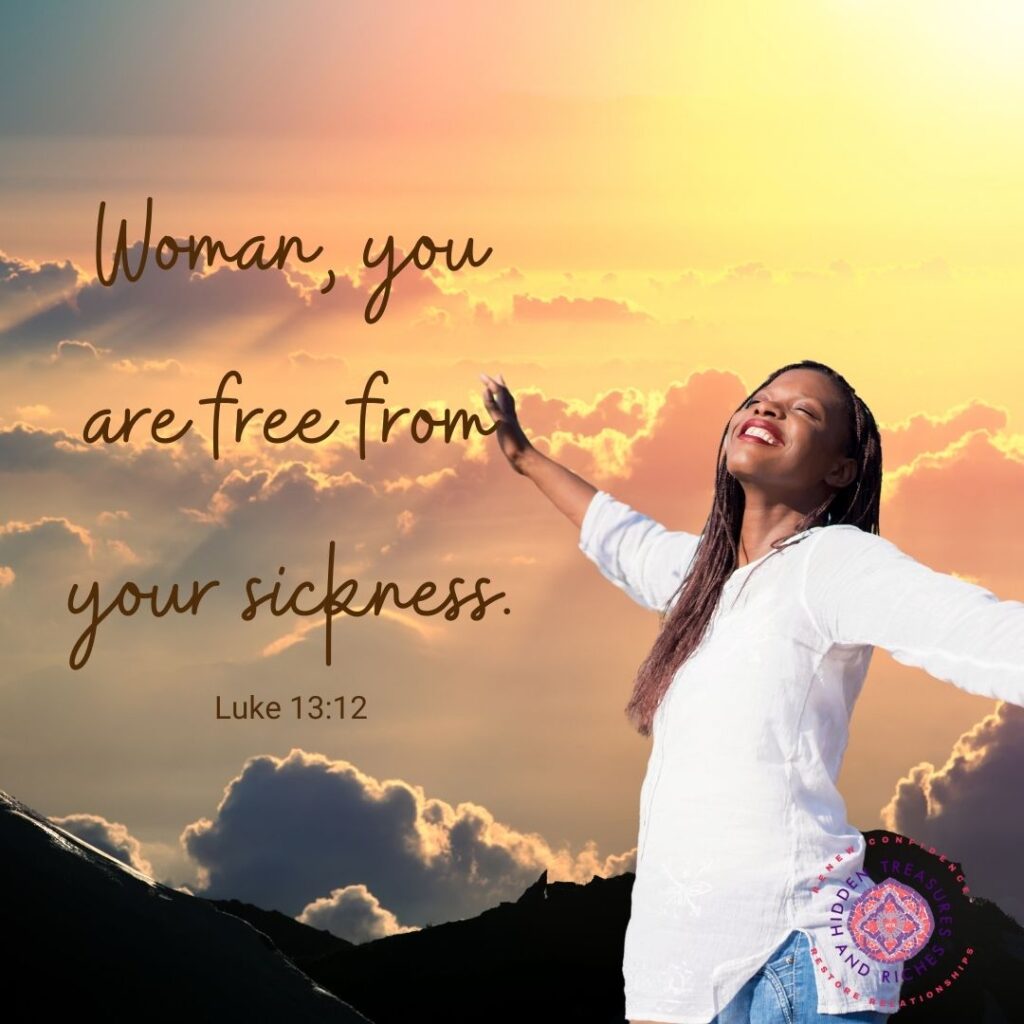 I think about this question as I read Luke 13, where Jesus met a crippled woman in the synagogue while he was teaching. While others raised their hand in worship, she was so bent over that she couldn't stand up straight. She'd been crippled for 18 years. 
Jesus saw her and called her to come forward. He said to her, "Woman, you are set free from your infirmity." He touched her, and immediately she straightened up. She praised God. I can imagine her joy as she raised her arms and Hallelujah to the Lord.  
Everyone was excited about her miracle and healing. However, some in the audience questioned Jesus' healing her on the Sabbath (that's a story for another day!).
Perhaps, you're dealing with some chronic challenges, but you're faithfully serving God. Jesus sees you, just as he saw the crippled woman, called her out, and set her free. He can do the same for you. 
Regardless of your troubles or circumstances, Jesus is concerned with your distress. He came to this broken world to redeem and restore you and me. Best of all, he'll remind you of who you are, a daughter of Abraham and a beloved child of God. 
The disabled woman on the bathroom floor was invited to church by the other lady. She went and was healed during the service. Let's allow our faith to flourish because, with Jesus, the impossible is possible.
A sudden turnaround in your situation is possible. Healing is possible. Hold on to hope, and never give up. 
Jesus loves you! 
Prayer
Lord, thank you for seeing me and all my struggles. When life knocks me down, help me to flourish in my faith and trust that you're working all things for my good. I look to you for a miracle this holiday season. In Jesus' Name. Amen
Share your favorite verse from Luke 13 in the comments below.
When Jesus saw her, he called her over and said, "Woman, you are free from your sickness." Jesus put his hands on her, and immediately she was able to stand up straight and began praising God. Luke 13:12-13
May your home be filled with the love of Jesus this holiday season.
Day 13: This post is part of the Come Away with Jesus Christmas Challenge.
Have you always been running? Running to please everyone and hoping for a change without the discomfort of letting go? Let me show you how to soar and start living your dreams. Let's talk. Book your FREE Call today.
You may also be interested in: Finding Free hope, Forgiveness, and Peace at Christmas