Today's guest post is by my friend Brianna Barrett. You'll learn about the power of prayer and visualization to calm you in fearful situations.
Even when I walk through the darkest valley, I will not be afraid, for you are close beside me.  Your rod and your staff protect and comfort me. – Psalm 23:4 NLT
The MRI machine whirled in my ears, and my breathing became quick. My heart felt like it was beating out of my chest, and I started gasping for air. I started squeezing the button to make the machine pause and get me out of there as quickly as possible. What should have been a simple few-hour MRI became a nightmare, causing me to have a panic attack and lasting for half the night. As the technician came rushing into the room to help me sit up so I could hopefully start to get a hold of myself, I realized I was over my head. I had been pep-talking myself all day about the MRI and how I could do this. What I failed to do was allow God into my pep talk. I needed Him more than ever. 
I tried humming to myself in hopes that we could continue the tests. The sooner they started it again, the sooner I would be done. I hummed "Silent Night" as long as I could and did okay for a little while longer. Then they placed a heavy blanket-like item over my chest/stomach and a cage on my face; I lost it, and full panic took over. The technician ran into the room, trying to comfort me.
No words he said that night was comforting, but as I slowly gathered myself, I started to call out to the Lord in prayer. I surrendered to God. At that moment, I struggled to recall the scriptures I had memorized; however, I knew that my good, good Father would listen. My surrender of control is what He needed to be invited into the situation. He was there the whole time, but I kept Him at bay, trying to conquer my giants without him.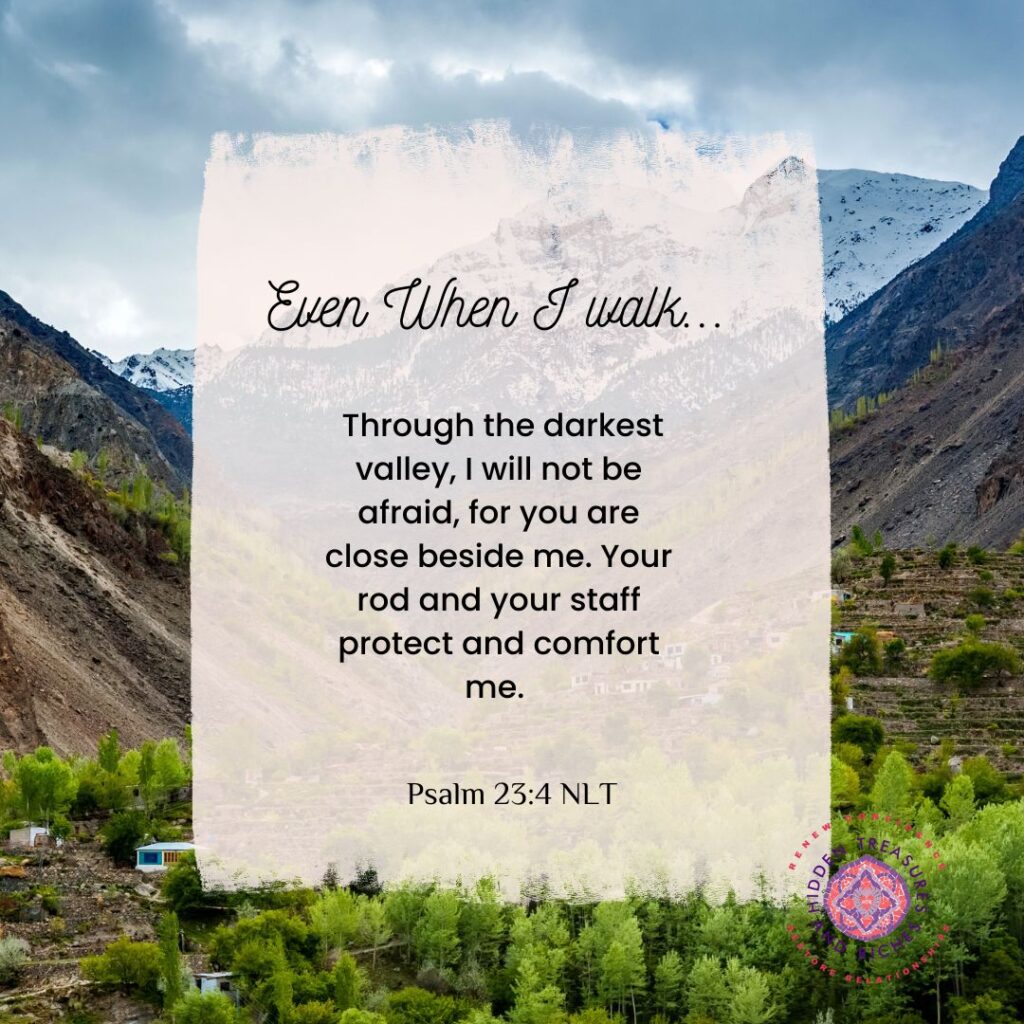 I knew He was there with me and that He would protect me. He helped me recall Psalm 23:4, "even when I walk through the darkest valley, I will not be afraid, for you are close beside me. Your rod and your staff protect and comfort me." (NLT) At that moment, I stopped wrestling with trying to remember more and rested on the fact that my Papa had rescued me. He was there from the start, but when I surrendered, He could take over, guide, and lead me.
I've tried doing things with my own strength before. Each time I attempt to be God, the anxiety starts, the thoughts whirl, my hands shake, and my heart races as I try to convince myself that I know better than God. To reason that I can do it. When I fail to surrender, I miss the glorious peace that comes when I allow God to be a part of it and take over, a peace that passes all understanding.
Each time I try to take control, I'm being disobedient to God and not allowing him to walk with me. I'm not leaning on him. I'm like a horse with blinders on, and I can only see what is right in front of me. I only know what I know and don't always see the big picture. The times that I've had delayed answers to prayers or the response has been no, and God did it for my good. I didn't know why at the time, and at times I never find out why but occasionally, I get a little glimpse of why. God loves us too much to answer our prayers at any time other than when He sees best. That's a hard truth to understand. He's always there, but when we surrender, He can work with us as we obey Him.  
Experience Peace by Taming Your Anxiety Through Prayer and Visualization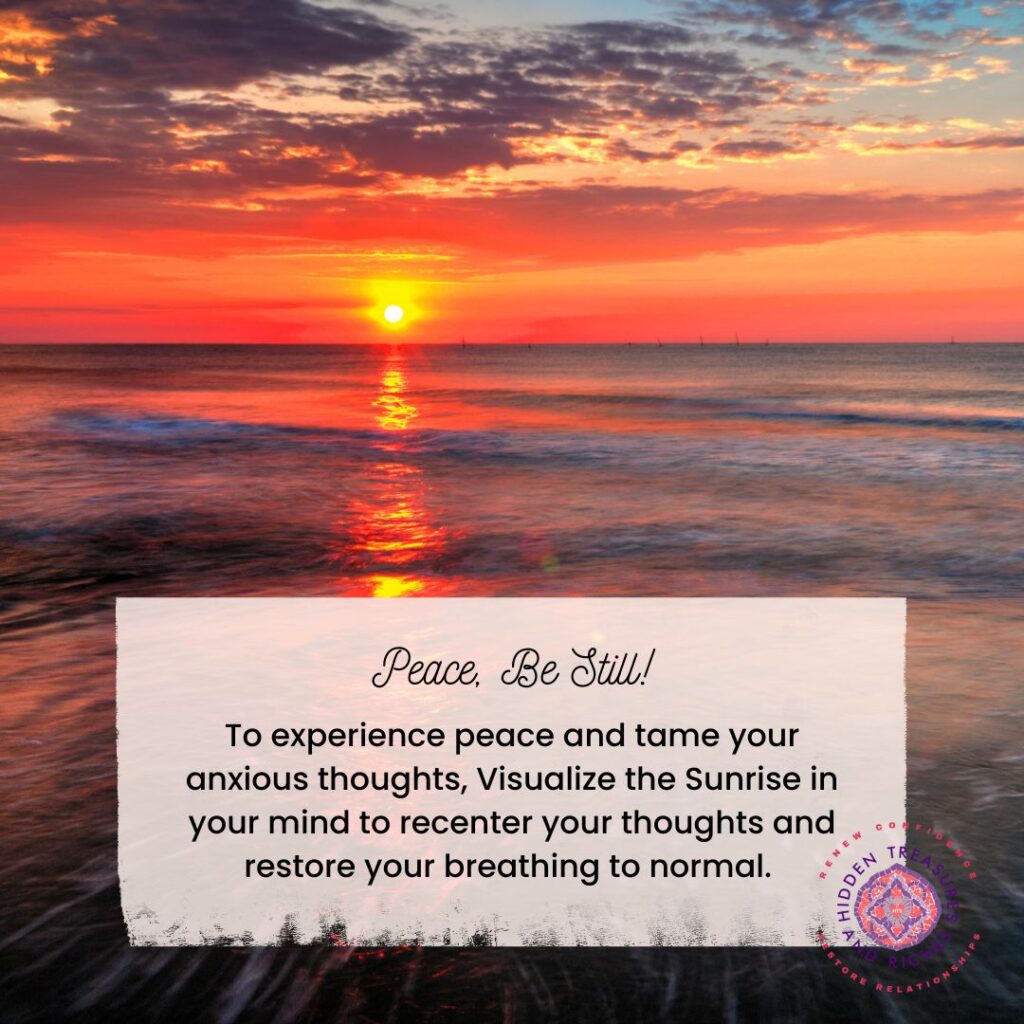 Through this struggle, I found that visualization helps me to combat anxiety. One of my favorite things is watching the sunrise at the beach (or anywhere, for that matter!). Between the waves and the incredible colors of the sky, a sense of calm washes over me. Now when the thoughts start whirling and the fear is creeping in, I take action and visualize my sunrise walk. My walk starts down the hall and down the flight of stairs, unlocking the loud lock on the outside door and walking to the street, where I turn right past two houses, and at the end of the street, I turn left. I pass another house and a parking lot, and then I'm at the crosswalk where I look both ways. This early in the morning, there usually aren't any cars.
Then I proceed across the road and down the wooden boardwalk toward the ocean. This is when I can feel my body relax between hearing the waves crashing on the sand and seeing the beautiful colors of the sky. I start to listen to the waves, and gradually the sun is peeping up over the horizon. The big ball of orange and yellow slowly ascends into the sky over the ocean, causing a beautiful reflection. Visualizing this experience recenters my thoughts, my breathing becomes normal, and usually, a smile appears on my face as I see this in my mind. God creates the most majestic masterpiece of the sunrise each morning.
A few months later, I had to have a repeat MRI. I'd spent the morning surrendering my thoughts, fears, and anxiety to God in prayer. I knew to turn to God first and repeated the verse He gave me the time before, Psalm 23:4, to myself as I imagined walking to watch the sunrise. Friend, I don't know what you are facing today, but our Heavenly Papa does, and I trust He will work it out for good. Today when the panic starts, let's take our thoughts captive, replacing our fears with God's promises and letting our Heavenly Papa know our hearts. The next time those anxious thoughts come, and the panic starts, take it to God and surrender to Him and His will. God will be with you through it all.
Prayer
Heavenly Papa, thank you for the person reading this; I know they are facing many things today. I pray for them as they go throughout their day. May they feel your presence today, and may they be blessed. The Bible tells us in 2 Timothy 1:7 that you didn't give us a spirit of fear or timidity but of power, love, and self-discipline, help us to live that out in our lives by trusting you more. Thank you, Lord, for never leaving us in the dark valleys but being our shepherd and guiding us through. In Jesus' name. Amen. Whatever visualization brings you comfort, I encourage you to make your own visualization to help you calm those anxious thoughts and fears. You may choose a walk along a path, ride along the parkway, sew a quilt, or build projects in your mind like my husband. I encourage you to embrace the beauty of God's peace and comfort that only He can provide
Please share how I can pray for you this week on Instagram at @sunriseoceanwave.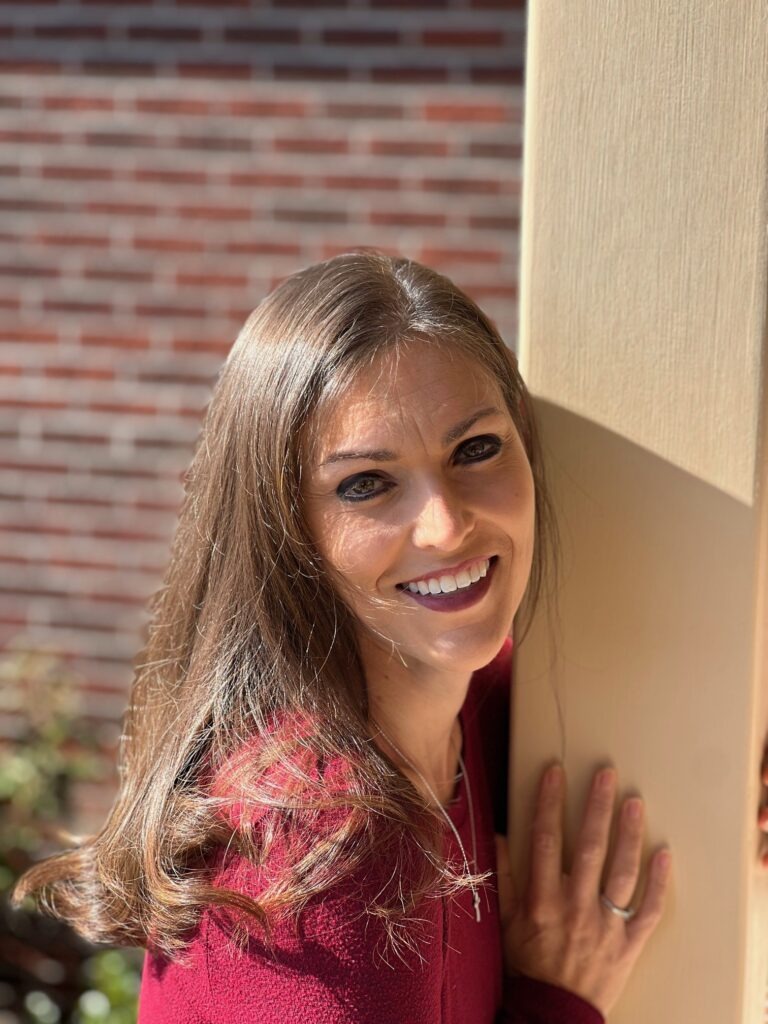 Bio: Brianna is married to her sweetheart. They have a car-loving teenage son that keeps them on their toes. When she's not in the kitchen cooking, she's dabbling in learning to use her camera, trying to capture God's masterpieces. She and her family reside in North Carolina. Connect with Brianna at www.briannagrams.com or on Instagram @sunshineoceanwave.
Want more peace so you can live a rich and satisfying life? Book a FREE Discovery Call today to discuss how I can help you.
You may also be interested in Resting Secure in Life's Unexpected Storms and How to Increase Your Peace