How do you apply God's word to your life? What does that look like when you face challenges or feel overwhelmed?
My goal is to share practical tools to help you apply God's word to everyday situations.
Right now, there's a lot of chaos, disunity, and anxiety out there. Perhaps you feel worried about the economy and inflation, skyrocketing food and housing costs. Maybe it's relationship struggles with your spouse and children or hard times at work.
Imagine it's 2 AM, and you're lying in bed, unable to sleep. Your mind is racing with all kinds of thoughts … fear steps in, and you're worried that you're afraid.
You need relief.
How do we find hope and relief?
Counting sheep? No
It begins with GRATITUDE…GIVING THANKS
How to Overcome Worry with Gratitude Body Scan
I want to share a practical example of how you can apply Philippians 4:6 when you're fearful, worried, or concerned about your situation. The verse reads, Do not be anxious about anything, but in every situation, by prayer and petition, with thanksgiving, present your requests to God.
Perhaps you're wondering how you practice gratitude when your heart is agitated and flustering.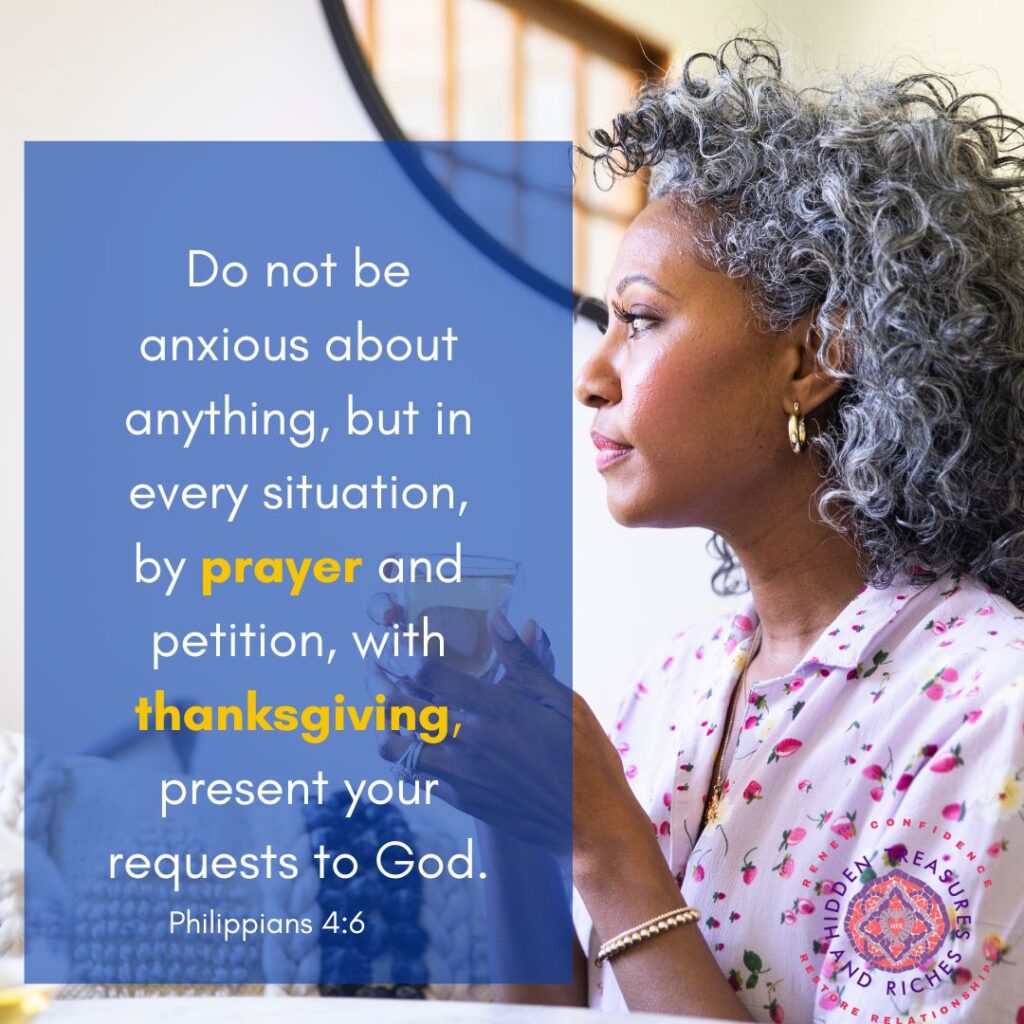 The gratitude body scan is an excellent meditation tool that can help calm your anxious heart.
Begin by closing your eyes. Next, take a deep breath. Feel your breath work its way through your chest and stomach. Then slowly exhale through your mouth.
You're going to thank God for every part of your body, including your internal organs.
Still focusing on your breathing
Let's begin with your right leg. Thank God for your right foot and big toe.
Thank God for your other toes, the sole of your feet,
your right ankle, shin, calf muscles, knees, bones, and thigh. Do the same for your left leg.
If any thoughts come to mind, let them go. Simply focus on your breathing and thankfulness prayer.
Thank God for your skin and work your way up to your head.
Then thank God for your internal organs, heart, lungs, kidney, pancreas, stomach, intestine, and so on.
Name each organ one by one.
If you're still awake, thank God for each cell in your body,
Thank God for each cell in your body,
Thank God that each cell is functioning well
Thank God for the blood that flows through your body
Thank God for your DNA
Thank God for your breath
Thank God for your being
And don't be surprised if you fall asleep while expressing gratitude for your body.
I bet you would have a sense of relief when you wake up.
The gratitude body scan is a creative way to apply God's word and reconnect with your body and him. It derails worry and anxiety and gives you calm, peace, and joy.
Friend, we have a choice to think of God's thoughts and apply them to our lives. As we do so, we'll build a stronger connection with God and feed our faith. We'll also develop trust, perseverance, and determination so that the enemy cannot steal our joy.
Think of a time when you couldn't sleep at night; what helped you? Go ahead, and give the gratitude body scan a try. I'd love to hear about your experience.
Prayer
Father, thank you for blessing everyone listening to this message. As we express gratitude for our bodies, may your supernatural presence calm our fearful hearts, and may you meet us at the point of our needs. We appreciate you and give glory and honor to your name, in Jesus' name. Amen.
God loves you!
God bless
Want more peace so you can live a rich and satisfying life? Book a FREE Discovery Call today to discuss how I can help you.
You may also be interested in Applying Scripture Meditation to Every Day Situations and Stress-Free Living