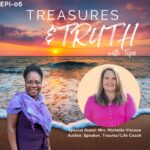 Can you imagine keeping a secret for 38 years? My guest in this episode kept a secret for 38 years. But God had a plan to heal and restore her. He took her from survival mode, hiding behind a mask to thriving from the ruins of childhood sexual abuse. If you are struggling with secrets from your past or trauma, you won't want to miss this episode.
Mrs. Michelle Viscuse is a trauma-informed coach, author, speaker, and women's ministry leader. She is a pastoral Counselor – Crisis Response and Trauma and a Christian life coach. She is passionate about empowering female survivors of sexual abuse to find courage, hope, and freedom from their past. Michelle and her sweetheart of 23 years, three children, and a beagle named Maisy Jane call North Carolina home.
Click The Red Button To Unleash Your Hidden Potential
Listen in to find hope and inspiration from Michelle's story and hear about the treasures she found on her journey of healing from childhood sexual abuse.
Listen on Spotify, Apple, or your favorite podcast platform
Connect with Michelle or invite her to speak:
Website: https://journeypink.com/
Facebook: https://www.facebook.com/JourneyPink
Instagram: https://www.instagram.com/journeypink/
Twitter: https://twitter.com/michelleviscuse?lang=en
Contact information: [email protected]
Free Resource From JourneyPink: 10 Myths that make us doubt the reality
https://journeypink.com/was-it-really-sexual-abuse/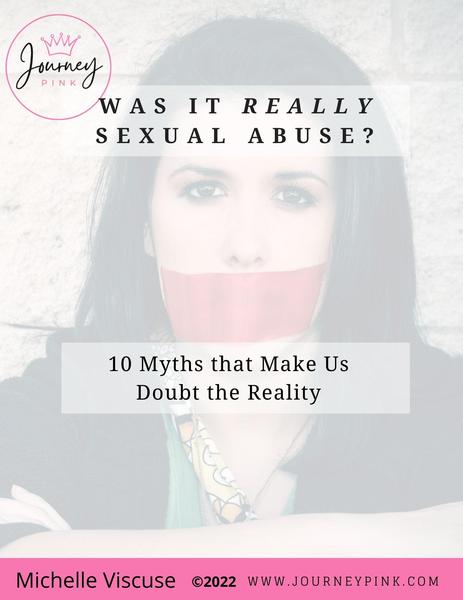 Resources from Hidden Treasures and Riches to help you get through hard times:
Weathering Storms: Finding Treasures in the Ruins
Thankful Everyday: A Gratitude Journal to Refresh Your Soul and Increase Your Joy